While the Missouri Synod's 2009 statistical reports show a 1.08 percent loss in baptized membership — continuing a 30-plus-year trend in declining church membership experienced by most Protestant denominations —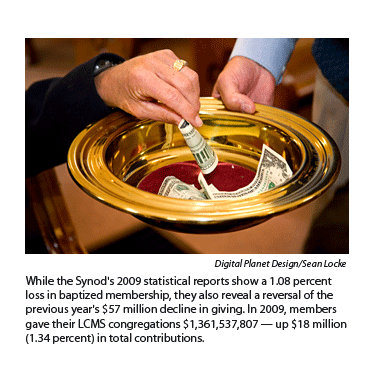 they also reveal a slight reversal of the previous year's $57 million decline in giving.

In 2009, members gave their LCMS congregations $1,361,537,807 — up $18 million (1.34 percent) in total contributions. Giving for local expenses increased by $21 million (1.73 percent) to $1,234,616,467, and the average amount given per communicant member was $763.13, an increase of $18.58 (2.5 percent) from the previous year.

Baptized membership fell by 25,238 (to 2,312,111) and confirmed membership decreased by 19,761 (to 1,784,139).
The number of LCMS-member congregations in 2009 rose by 54 (to 6,075), with 103 new church starts — bringing the total number of congregations to 6,078. The number of ordained clergy serving in parishes was up by 14 to 5,407. The number of clergy serving in other capacities fell by 163 to 679, while the number of retired clergy decreased by 10 to 2,799.
The average attendance at weekly worship services reported in 2009 was 156.1, up slightly from the 155.2 average in 2008.
The increase in the number of "specialized ministries" as reported by congregations was a positive note in the report, as 4,503 congregations (up 267 from 2008) responded to a "specialized ministries" questionnaire. Tallies indicate that they conducted 40,125 such ministries in 2009 (up 3,685 from the previous year).
These included 17,615 "educational ministries" (up 1,374), 12,679 "human care" efforts (up 1,290), 6,188 "media efforts" (up 625), and 3,643 (up 396) "special needs" ministries, such as among the developmentally disabled, the elderly and armed forces personnel.
Some 191 congregations reported providing 776 "specialized worship services," including 257 (up 38) serving language or ethnic needs, and 519 (up 80) to serve those who are vision- or hearing-impaired.
The statistical reports are sent out annually to all congregations in January to report data from the previous year. Results are compiled from February through May by the LCMS Office of Rosters and Statistics.
"Unfortunately, our statistical summary reports continue to be less than helpful, since only 3,864 (out of 6,178 eligible) congregations returned their 2009 reports," said LCMS Secretary Raymond Hartwig. "Hopefully the 2010 convention action that included statistical reporting as one of the Bylaw 1.3.4 'expectations of membership' will be helpful in obtaining a near-100 percent return in the future."
For 2009, the number of professions of faith (which are "lapsed" members reinstated into membership) rose substantially by more than 3,000 (25 percent) to 14,599, while the number of "back door losses" — adults removed from congregational rosters (for reasons other than death or transfer) declined by around 3,500 (8.4 percent) to 38,141.
Another positive in the report showed the number of Christian education classes rose, as did the number of those attending classes:
3,601 weekday religion classes (up 30).
171,379 students in weekday religion classes (up 1,735).
28,809 non-members in weekday religion classes (up 940).
3,611 vacation Bible schools (up 67).
4,913 Sunday schools (up 74).
375,213 enrolled in Sunday schools (up 4,009).
Among other official acts reported for 2009:
24,745 children were baptized (down 4,294).
19,104 teenagers were confirmed (down 1,975).
13,067 adults were confirmed (down 1,045).
Posted Oct. 13, 2010