"The 72 — Partners on the Road" is seeking volunteers to serve on its outreach training teams.
Now in its 14th year, "The 72" is a ministry of LCMS World Mission that trains volunteer teams to help congregations improve their outreach efforts. The ministry has worked with nearly 200 congregations since it began, typica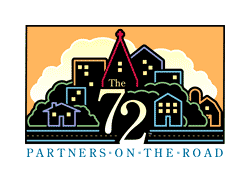 lly serving about 15 congregations a year.
"It's really an equipping ministry — equipping congregations to work in their local mission fields" and "to develop an effective outreach ministry," said Rev. Al Tormoehlen, director of the program.
Tormoehlen says more than 100 LCMS congregations have asked for information about partnering with The 72 since January 2008, so "there is a real need for training more people" as team members.
Applications are being accepted now through April 30 for individuals and married couples. Teams of two to four people serve "on location" at a congregation for three to four weeks, helping equip members for effective outreach, including:
expressing their faith comfortably in daily conversation.
establishing effective outreach-ministry goals.
organizing publicity and promote events within the local community.
welcoming and including guests into the worship and life of the congregation.
organizing a telephone-based ministry.
developing a framework for small-group ministry.
establishing a strategy to connect with inactive members.
The partnering congregation covers the cost of the team's housing, transportation, meals, and supplies.
In surveys with the 194 congregations served to date, 192 of the congregations said they would recommend The 72 to others.
One of them is Christ Lutheran Church in Yuma, Ariz., which hosted team members Al and Joy Axelson of Fountain Hills, Ariz., in February 2001. Christ Pastor Rev. Vince Harman says the training was "very helpful" and he would "absolutely" recommend the process to others.
The team helped the congregation "get organized for evangelism," Harman said, and it formed committees on communications, assimilation, and outreach — all are still in operation today. The congregation also decided to increase its evangelism budget — from $500 to $10,000 a year — using those funds to buy billboard, radio, and television ads and take part in local events to "let the community know who we are," according to Harman.
"A lot of it was changing the mindset of our members to reach out to people, being outreach-minded," the pastor said, and the training encouraged Christ members to invite others to worship and to be open to new outreach ideas.
The congregation, which reported increases in worship attendance for 10 consecutive years, is still looking outward, and has plans to start English classes for local Hispanics, a Bible study or parenting class for the parents of its school's students, and possibly a finance class for young families.
The program, Harman said, "provided training for lay leaders that was very helpful for getting them excited about evangelism and [gave them] some of the tools to do it."
Members of The 72 outreach training teams also report positive experiences.
Bob and Shirley Brandt of Freistatt, Mo., have served The 72 since 2003. They say the ministry "has helped us be more prepared to share our own faith with people around us. It has also helped us to see new opportunities for spreading the Gospel message. It's given us a new purpose to our lives, which we would have missed if we had not enlisted in The 72 — Partners on the Road."
"The 72 is [a ministry of] Christians who are used by the Holy Spirit to reinvigorate, sustain, and build up the efforts of congregations. And this occurs not in some retreat, seminar, or other worldly location, but right where God's people are, in their own location," say Ken and Vi Lampe of Warsaw, Mo., team members since 2005. "Further, the fellowship, friendships, and training have reawakened in us a vision of the many possibilities that God places in our lives to share the Gospel."
Training for The 72 is held annually and includes online study — trainees complete seven Web-based courses over several weeks — as well as a five-day conference at the Saint Paul Institute for Education in Concordia, Mo. This year's training is scheduled for June 7-11.
Tormoehlen says the ministry now has eight "district field representatives" who work with mission and ministry staffs in their LCMS districts to identify congregations that could benefit from revitalization efforts such as what The 72 provides.
He would like to have 16 district field representatives on board in two years, he says, and all 35 LCMS districts participating eventually.
"With the assistance of field representatives, we will intentionally follow up and cultivate congregations with baptized memberships of less than 300 for effective partnership with a team of The 72," Tormoehlen said.
To request an application to serve as a team member with The 72 — Partners on the Road, contact Tina at 800-433-3954, ext. 1286, or the72@lcms.org. More information about the ministry is available on the Web at www.lcmsworldmission.org/the72.
Posted Feb. 3, 2010