By Kim Plummer Krull
LCMS World Relief and Human Care (WR-HC) is organizing a Mercy Medical Team (MMT) to serve in October at the first of four new medical clinics preparing to open in Haiti. The clinic is located in Poto, next to a Lutheran Church of Haiti (LCH) congregation in a rural area where medical care is especially scarce.
"The pastor at the Lutheran church is very excited to have medical care to serve people at this rural location," said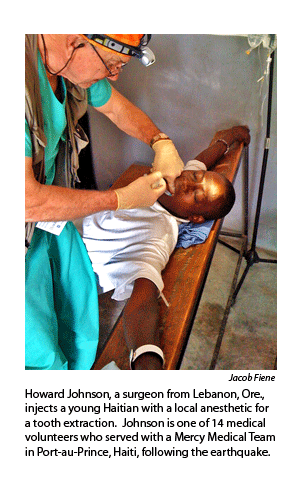 Maggie Karner, director of Life and Health Ministries with WR-HC. "This is an area that has suffered two major disasters in the last two years and is drawing many people displaced by the earthquake."
The Poto clinic, located in the Gonaives region, is being opened by WR-HC in partnership with the LCH and is expected to begin seeing patients in late August. Plans are in the works to open three more clinics, in Port-au-Prince, Jacmel and the Central Plateau, in conjunction with the Evangelical Lutheran Church of Haiti.
A Haitian physician and nurse will be based at each clinic. WR-HC plans to send MMTs to provide additional care. The first MMT will serve Oct. 17-26 in Poto, an area where Karner said Haitians have been hit hard in recent years by massive flooding and the Jan. 12 quake. "While there is some medical care in the cities, this is a rural area that has been largely neglected," she said.
Earlier this summer, Karner and WR-HC's Jacob Fiene and Charlottesville, Va., physician Dr. William Maloney scouted potential clinic locations. All had served with MMTs as part of WR-HC's earthquake response in Haiti. "Even before the earthquake, there were always people who were underserved in terms of medical care," Fiene said. "Each clinic will be in close proximity to people who were displaced."
The clinics are transformed shipping containers, retrofitted to include an office, an examination room and a pharmacy. Through the work of Rev. Glenn Merritt, director of Disaster Response, WR-HC acquired the fully supplied and equipped clinics from Christian Alliance of Houston, Texas. Orphan Grain Train, of Norfolk, Neb., helped ship the clinics with assistance from the World Harvest Mission offices in Port-au-Prince, Haiti.
Several medical professionals already have signed up for the October MMT, but WR-HC is still accepting volunteers. To learn more, visit www.lcms.org/?14341 or contact Fiene at jacob.fiene@lcms.org or 800-248-1930, ext. 1278.
Kim Plummer Krull is a freelance writer and a member of St. Paul's Lutheran Church, Des Peres, Mo.
Posted Aug. 12, 2010