Jerald C. Wulf of Pierre, S.D., was appointed Nov. 19 by the LCMS Board of Directors as the Synod's new chief financial officer. The Board selected Wulf during its Nov. 17-19 m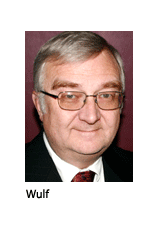 eeting in Nashville, Tenn.
"Jerald Wulf comes to the national Synod with a wealth of Christian background and business experience," said Board Chairman Dr. Robert T. Kuhn. "He has served the local congregation in a variety of offices and also engaged in completing his lay ministry courses.
"The Synod will be richly blessed by the work of this Christian gentleman as CFO — one who is dedicated to our Lord and committed to the mission and ministry of The Lutheran Church–Missouri Synod."
Wulf, 58, succeeds Dr. Thomas W. Kuchta, who has served in the post since 2001 and plans to retire. Kuchta announced in August 2009 that he would not stand for re-election at the 2010 LCMS convention.
That convention changed the way the position is to be filled — from one elected by convention delegates, to one appointed by the Synod Board of Directors, w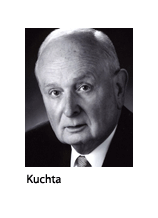 ith the concurrence of the LCMS president.
At its meeting in Nashville, the Board also adopted a resolution giving thanks to God for Kuchta's nine years of service in the post and expressing "its heartfelt thank you" to Kuchta for his national service, as well as his work "in numerous other positions and activities for and on behalf of the Synod at the national, district and local levels."
Since the convention, Kuchta, 68, has been serving as interim chief financial officer. He completed three terms as the Synod's vice-president — finance/treasurer, overseeing the church body's $100 million operating budget and serving on the boards of directors and investment committees of many LCMS entities, including the Lutheran Church Extension Fund, The LCMS Foundation, Concordia Plan Services, Concordia University System, the LCMS Board for Pastoral Education and Concordia Publishing House.
In his new position, Wulf will serve as treasurer of the national Synod, administering the church body's financial affairs in accordance with its Articles of Incorporation, Constitution and Bylaws, and according to direction from the LCMS Board of Directors and the Synod president.
Wulf has served since 1976 with the South Dakota Department of Legislative Audit — currently as director of external audits. He also serves the Synod's South Dakota District as district treasurer, a position he has held since 1991.
He has held numerous church-related positions, including congregation president, Lutheran Laymen's League district governor, Bible study leader, LCMS convention delegate and member of several congregational boards including Board of Early Childhood Education, Board of Elders and Board of Education.
Wulf is a 1976 graduate of the University of South Dakota's School of Business, Vermillion, S.D.
Although it has not yet been determined when he will begin his service at the Synod's International Center in St. Louis, Wulf told Reporter he expects it to be "early February." He will serve a three-year term, renewable by the Board of Directors with the concurrence of the Synod president.
Wulf said he is "humbled and honored to have been appointed, and, as the Lord enables me, I will do my best to serve Him and His Church in this new role.
"I also thank the Lord for the good and faithful service of those who preceded me in this position."
Posted Nov. 24, 2010