NEW ORLEANS–"We Believe," the 11th triennial National LCMS Youth Gathering, will contribute some $42 million to local revenues here, according to figures released by the city's convention and visitors bureau.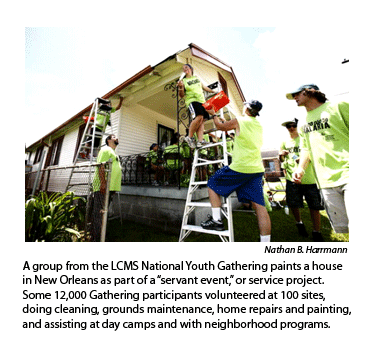 The Gathering, which is the Synod's single largest event, brings together young people between the ages of 14 and 20 to spend time in worship, learning and service. Final attendance figures for this year's event show 25,000 young people, chaperones, volunteers, guests and staff in attendance.
The Youth Gathering took place July 17-21 in New Orleans.

"The New Orleans Convention and Visitors Bureau is honored to work with [the] LCMS to host their 2010 National Youth Gathering," said Jennifer Day, director of communications and public relations for the New Orleans Metropolitan Convention and Visitors Bureau. "This is such a special meeting for New Orleans. Of course, there are the economic benefits such a large group brings to the city, with thousands of hotel rooms booked, countess meals consumed and souvenirs purchased.
"But our relationship with [the] LCMS runs much deeper, with attendees rolling up their sleeves to participate in over 100 service projects. By connecting directly with members of our community and unique culture, we hope to have contributed to an unforgettable Gathering and in return to have fostered a new generation of visitors for years to come."
The figures from the convention and visitors bureau do not include the National LCMS Youth Gathering offering. A portion of the special Gathering offering collected by participants and brought to the event will benefit New Orleans. The first $50,000 from the offering will be designated for local community support and renewal, and the next $50,000 will fund a new national LCMS grant program to help youth groups reach unchurched youth. Any additional funds from the offering will benefit a local mission project and various youth and young adult ministry projects.

In addition to financial contributions, Gathering participants have collected and contributed thousands of items that will be donated to local residents and organizations:
3,000 personal care kits for area shelters and community organizations.
2,000 placemats for local nursing homes.
1,000 units of blood for southeast Louisiana hospitals.
400 fleece blankets.
50 haircuts for Locks of Love.
125 baptismal banners for local churches.
3,000 pounds of non-perishable food items for Second Harvest Food Bank.
200 batches of play dough for local preschools and Boys & Girls Clubs.
2,000 thank-you notes for local oil spill recovery workers.
Some 12,000 Gathering participants volunteered at 100 offsite servant events, or service projects, benefiting local churches, schools, parks, cemeteries, summer camp programs and other service organizations, and individual homeowners. The servant events included such things as cleaning, grounds maintenance, home repairs, painting, and assisting at day camps and with neighborhood outreach programs.

"We love coming to New Orleans — it's like coming home," said Dr. Terry K. Dittmer, director for LCMS District and Congregational Services–Youth Ministry, the office that oversees the National Youth Gathering. "We are grateful to God for the opportunity to be of service to people of New Orleans. It is from Him that all blessings flow, and it truly has been a blessing being here for our 11th triennial Youth Gathering.
"As the final days of the Gathering draw [to a] close, we want to thank the City of New Orleans and New Orleans Metropolitan Convention and Visitors Bureau staff, the hospitality industry, the service providers, the vendors, volunteers, staff and everyone who had a hand in this event," Dittmer said. "I pray God's blessings on all our friends here. May He hold you all safely in the palms of His hands until we meet again."
Posted July 21, 2010