By Joe Isenhower Jr.
CINCINNATI — The10th triennial Lutheran Education Association (LEA) Convocation here March 24-26 reflected a global perspective as 2,600 educators from 10 countries explored the event's "Crossing Over" theme.
The theme evokes this city's bridges and its history as a portal of freedom for the Underground Railroad and the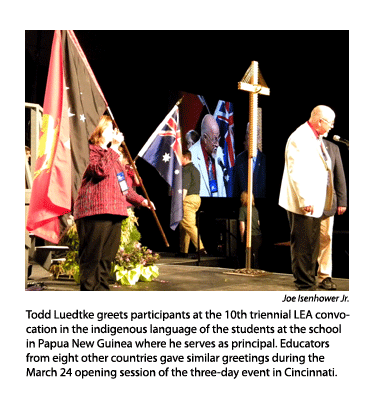 many ways Lutheran educators see "crossings" through God's work in their lives and through their work with students, colleagues and others.
Helping them focus on that theme here were pre-convocation events, worship and plenary presentations, an array of sectional workshops spread over five sessions, some 100 exhibits, and opportunities for fun and fellowship.
"Every experience … is intended to support your ministry," LEA Executive Director Dr. Jonathan Laabs wrote in his welcome for the convocation program book.
One of the pre-convocation events — a March 23 Global Lutheran Education Symposium sponsored by LEA, LCMS World Mission and others — gathered 70 participants to discuss Lutheran education around the world.
Laabs explained that symposium participants represented the Synod's three international schools in Asia (Hong Kong, Shanghai and Hanoi), schools connected with church bodies, "struggling schools," partnerships, agencies and other individual educational ministries.
"I strongly believe that we need to look at Lutheran education as a global partnership," he told Reporter, adding that this has been a prime emphasis for LEA over the past three years and will continue as an emphasis for the future.
He also said that LEA would continue to "support educators facing challenges in their ministries" and explore new avenues for helping its 3,000 members stay connected — including social media, as the organization also looks fo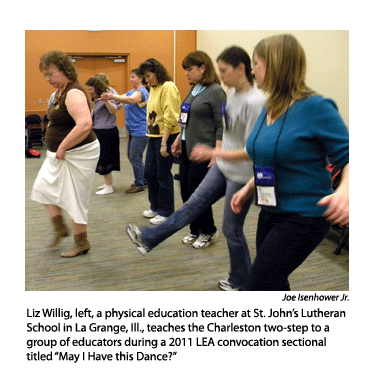 r ways to provide more opportunities for "face-to-face communications."
Metilliah Gatsi, a primary-level teacher at the Masase Lutheran Secondary School in Harare, Zimbabwe, said she found the convocation to be "really educational [with] all kinds of help for teachers." She also said she experienced a "oneness and welcoming atmosphere where you don't feel like an outsider."
Gatsi's school in Zimbabwe has 1,200 students and only 42 teachers.
She was in the country to visit Concordia College, Selma, Ala., and to participate in the convocation.
Deadra Hurley, a third- and fourth-grade teacher at Trinity Lutheran School, Bay City, Mich., and also at her first LEA convocation, was just leaving a sectional titled "Wonka Fest" when Reporter caught up with her. She said the session demonstrated how candy bars and other sweets can be used in measuring and weighing, among other activities.
"What a fantastic way to take a piece of literature and integrate it into math and science," she said. "Any time you can get students to do something fun to learn, it's great."
This was the second convocation for Rev. Jeremy Pekari, pastor of Messiah Lutheran Church, Lynnfield, Mass. At this year's event, Pekari was the presenter for a sectional on educational metaphors — such as "coach" and "shepherd," he explained, "and how to evaluate the metaphors we use."
He said he had just attended a sectional exploring how older adults can help minister to kids, and that he intended to discuss with the director of Messiah's preschool how to engage older adults in its ministry.
"It was very practical," Pekari said of that sectional.
Plenary presenters included the Christian comedy duo known as "The Skit Guys"; Miss America 2009 Katie Stam, a lifelong LCMS Lutheran; and Dr. Leonard Sweet, an author and futurist who is the E. Sta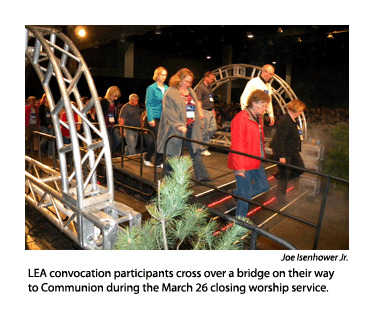 nley Jones Professor of Evangelism at Drew University, Madison, N.J., and a visiting distinguished professor at George Fox University, Portland, Ore.
Stam — who attended Lutheran schools as a child and whose mother is a Lutheran teacher in Indiana — expressed her thanks to and for Lutheran teachers. She referred to them as "Christians who know how essential Christian education is in forming Christian leaders."
"My faith has always remained at the center of everything I've done," she said, adding that included her year-long reign as Miss America, when she logged more than 250,000 miles of travel.
Stam sang "Via Dolorosa," the song about Christ's way to the cross that she performed in the talent portion of the Miss America finals in Las Vegas two years ago.
At the end of the session, after LEA's distinguished educators for the last three years were recognized onstage, she sang "Christ Be My Leader" (LSB 861).
"When I was born, 'text' was a noun and 'contacts' were something you put in your eyes," Sweet told the convocation audience. It was "a Gutenberg world — very different from the world now.
"The question is, are we Gutenbergers going to cross over into the present world?" He characterized today's world with the acronym of "TGIF" — Twitter, Google, iPhone and Facebook.
"To cross over into the TGIF world," he said, "we better learn how to prepare [students] for the world coming at them, … a whole different way to communicate." He said that instead of "words and points," such communication should be done with "images and stories … the way Jesus taught."
Referring to the biblical account of the children of Israel crossing the Red Sea, Sweet issued a challenge to his LEA audience.
"God has raised you up for such a moment," he said. "Maybe you're the ones who have to get your feet wet [and] cross over into the TGIF culture — a culture that is desperate to hear the stories of Jesus, starting in Genesis and going all the way to the maps."
"We've talked a lot about crossing over … from bondage to freedom, from knowledge to wisdom, from fear to hope," Dr. Dean Nadasdy, the convocation's worship leader and senior pastor of Woodbury Lutheran Church, Woodbury, Minn., said in his message for the March 26 closing Communion service.
He added that hope in God is the "driver" of faith.
"Faith is what gives your hope its traction," he said, and faith is "a relationship you have with the God of hope."
"If you want to build a culture of hope in your church and school," he said, "there must be faith in Christ."
On their way to Communion stations at the front of the convention hall, all 2,600 participants crossed over a bridge in a foggy mist that had been in place throughout the convocation.
From offerings given during worship services at this year's convocation, LEA is providing $10,389.64 for the Synod's new Concordia International School Hanoi and $8,327.62 for the Lutheran Malaria Initiative.
In addition, convocation participants donated new clothing, backpacks loaded with school supplies and $2,431.26 for Building Hope in the City — an Ohio-based ministry of Synod-congregation members that conducts cross-cultural and urban church planting and mentors pastors and congregations.
Counting registered participants, exhibitors, musicians, speakers and guests, some 2,800 attended the 2011 convocation.
LEA is an LCMS Recognized Service Organization.
Posted April 13, 2011