By Kim Plummer Krull
One year after a catastrophic earthquake hit Haiti on Jan. 12, 2010, nearly 1 million people still live in tents, 95 percent of the rubble remains and cholera has killed more than 2,500, according to news sources. Other troubling reports say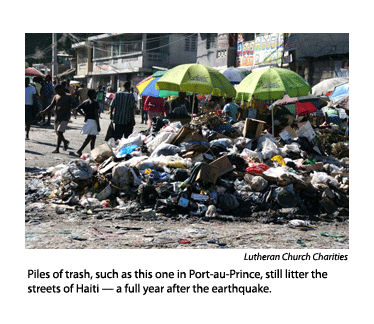 that less than half of the more than $4 billion pledged internationally for earthquake relief actually has been dispersed.
Despite huge challenges, LCMS World Relief and Human Care (WR-HC) staff just back from their latest trip to the beleaguered nation say that partners and donors are helping the Synod's mercy ministry in "changing lives forever."
To date, $3.6 million of $5.5 million contributed for Haiti earthquake recovery and rebuilding has helped:
purchase heavy equipment for debris removal.
secure land for the construction of homes.
provide for medical clinics, including supplying urgently needed medical equipment and medicines.
support sanitation and clean water initiatives to combat the cholera outbreak.
ship 62 containers loaded with material goods.
construct new homes in a number of locations throughout the country.
"As never before in the troubled history of Haiti, the proclamation of the Gospel and acts of mercy are changing lives for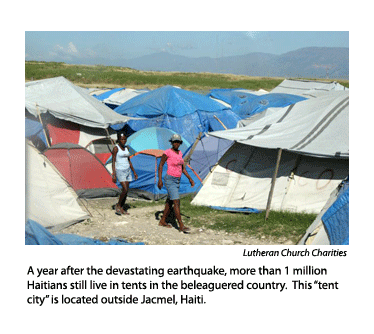 ever," said Rev. Glenn F. Merritt, director of Disaster Response with WR-HC, who returned Jan. 8 from his 13th trip to Haiti since the quake.
"For this one moment in time in Haiti, we have the opportunity as Christ's church to engage in compelling ministries with eternal consequences for thousands of Haitians suffering in the aftermath of this disaster. Together, we have reached across the boundaries of culture and language offering a touch of mercy and peace through Christ. This is the church at her finest hour in Haiti."
Working with Haitian Lutheran partners, WR-HC is focusing on long-term, sustainable projects that include:
opening medical clinics in communities where care is especially scarce.
distributing water filters to help families prevent cholera.
building permanent housing as part of safe Lutheran villages.
To provide on-site supervision, WR-HC hired Dominican Willy Gaspar as the ministry's projects manager in Haiti. Gaspar also has worked closely with the Dominican Republic Lutheran Mission Team.
Merritt calls the need for clean water Haiti's most critical health concern. Cholera, which has infected more than 100,000 Haitians with diarrhea and dehydration, spreads through contaminated water and food. To fight this preventable disease, WR-HC is partnering with FilterPure (a water filter manufacturer) an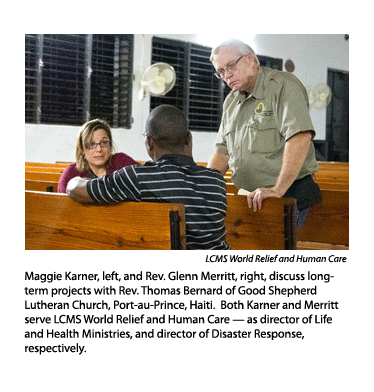 d Lutheran Church Charities (an LCMS Recognized Service Organization based in Addison, Ill.) to distribute simple, affordable filters to families through Haitian Lutheran congregations.
Each filter costs $30 and can provide a family of six with clean water for up to five years. To date, 690 filters have been distributed. Funding is needed to reach the project goal of providing 5,000 water filters throughout Haiti over the next six months.
WR-HC also is working with the Lutheran Church of Haiti (LCH) and the Evangelical Lutheran Church of Haiti to open four medical clinics. The first such clinic — a retrofitted shipping container — has begun treating patients in rural Poto near an LCH church.
On her fourth trip to Haiti since the quake, WR-HC Life and Health Ministries Director Maggie Karner focused on securing Haitian medical staff for the new clinics (three stationary and one mobile).
"This project is particularly important because it serves as a catalyst to encourage a means for Haitians to provide quality care to other Haitians as they heal and rebuild," Karner said.
In October, a Mercy Medical Team (MMT) of health care volunteers led by WR-HC's Jacob Fiene worked alongside Haitian medical professionals at the Poto clinic. Plans are in the works for three more MMTs to serve in Haiti this year — in April, August and September. To learn more about MMTs, visit www.lcms.org/mercyteams.
Through "Building Homes and Hope in Haiti," WR-HC is working with Haitian Lutherans to build permanent homes as part of Lutheran communities. The ministry has acquired property in Jacmel, Leogane, Miragoane and near Port-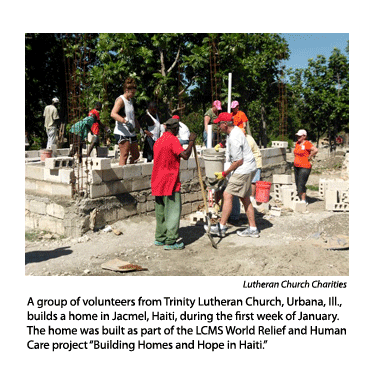 au-Prince, cities where many homeless Haitians live in makeshift shelters.
The project "is poised to move forward rapidly during 2011," Merritt said. "[WR-HC and partners] have cleared a number of legal and funding issues so that we are ready to begin construction on additional permanent homes within the next few weeks."
The partners also have set up 100 prefabricated homes so Haitians can move out of chaotic camps and live in temporary housing until permanent homes are ready. Another 230 prefab homes recently cleared customs, Merritt said, and will be constructed in two locations to supplement the prefab homes already in place.
"The work is tedious and trying, but the LCMS has diligently moved forward, one home at a time, to bring homes and hope to the needy in Haiti," Merritt said.
Merritt stressed that continued financial donations and construction volunteers are needed. To request a free video or to learn more about the project, visit www.lcms.org/bhhh.
One year ago, WR-HC and partners reached out to emergency needs, providing supplies and medical and pastoral care after the magnitude 7.0 quake. Today, the LCMS is helping Haitians take positive steps to support themselves. The challenges are complex, Merritt said, but Lutheran partners "are making a difference and, by God's grace, we will continue to do so."
To make a gift to fight cholera in Haiti or support Building Homes and Hope in Haiti:
mail checks (marked with either "Haiti cholera outbreak relief" or "Building Homes and Hope in Haiti" noted in the check memo line) to LCMS World Relief and Human Care, P.O. Box 66861, St. Louis, MO 63166-6861.
call toll-free 888-930-4438.
Kim Plummer Krull is a freelance writer and a member of St. Paul's Lutheran Church, Des Peres, Mo.
Posted Jan. 12, 2011