With the elimination of the Synod's Board for Black Ministry Services — a result of restructuring resolutions adopted at the 2010 LCMS convention — the LCMS Black Clergy Caucus is looking at ways to support black ministry in the years ahead.
The caucus — held once or twice a year — is attended by African-American pastors, educators, other professional church workers and their spouses. Participants hear presentations and discuss issues related to black ministry.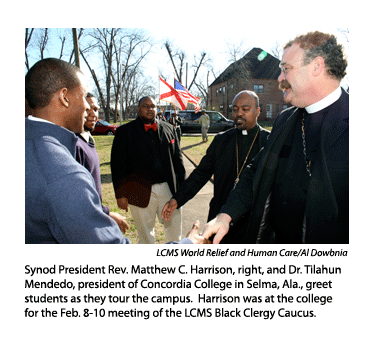 The primary focus of the group's Feb. 8-10 meeting in Selma, Ala., was "where do we go from here?," said Rev. James McDaniels, vice-president of the caucus. "With the demise of the Board for Black Ministry Services — and the changes that are happening at the Synod's national level — what must we do as a caucus to [ensure] vitality and resources and support to our congregations and our pastors?"
Among actions taken at the meeting, the caucus:
discussed the possibility of creating a network of LCMS black-ministry congregations, and formed a committee to study that idea. The network would be responsible for organizing convocations, setting mission strategies and fundraising.
reaffirmed its support for Concordia College, Selma, host of this year's caucus and another that is being planned for next year, also in February.
is planning a meeting between LCMS black-ministry leaders and Synod President Rev. Matthew C. Harrison to explore how the Synod's national office can be supportive of black ministry in the years ahead.
At the caucus, Harrison led a presentation on the Synod's "Witness, Mercy, Life Together" emphasis and answered questions from caucus members. He also took part in the dedication of the college's new chapel, which will be open to the Selma community for Sunday worship.
In his presentation on "The Changing Perspectives of Black Ministry: 1960 to Present," Dr. Lawrence R. Rast Jr. reviewed the recent history of the Synod's ministry to and with African-Americans, which began in the late 1800s. Rast is academic dean at Concordia Theological Seminary, Fort Wayne.
Rast also continued videotaped interviews with black-ministry leaders for the Synod's Black Ministry Oral History Project. Funded by LCMS World Relief and Human Care, the project aims to capture the experiences — both positive and negative — of dozens of African-Americans growing up in The Lutheran Church–Missouri Synod. Tapings for the project began last July at the 2010 LCMS convention in Houston, and so far nearly two dozen people have been interviewed.
McDaniels said the idea for the video project came about after the death of Dr. Richard C. Dickinson, 85, on April 17, 2010. Dickinson served the Synod for more than 50 years, including 13 years (1977-1990) as executive director of the LCMS Commission on Black Ministry, predecessor of the Board for Black Ministry Services. He was the first African-American to hold a national LCMS position.
"With the death of Dr. Dickinson, who was our major historian … we need to take advantage of many of our soldiers of the cross and teachers in the ministry who have made such great contributions," McDaniels told Reporter. "Only they can tell their stories and their history within the church."
Making the Oral History Project video will "most definitely" be helpful to others, McDaniels said. "It will be a learning tool where present and future generations will see the sacrifices, the efforts and the history that has not been told or written about, but needs to be shared."
Concordia College President Dr. Tilahun Mendedo said the school was "proud" to host the LCMS Black Clergy Caucus. "Their blood and sweat made CCS — this school is their history, their life, their heritage," Mendedo told Reporter. "When they come to campus, it's a homecoming [and] their presence elevates the spirit of the students, faculty and staff."
Mendedo added that "it was also a blessing to have President Matt Harrison here to share his vision and leadership philosophy. I look forward to working together to build a strong future for the college as we serve through Witness, Mercy, Life Together."
Posted March 9, 2011/Updated March 12, 2011