Concordia College — New York, Bronxville, N.Y., has planned two events featuring LCMS President Rev. Dr. Matthew C. Harrison.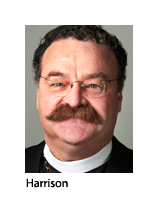 Beginning at 7 p.m. on Nov. 4, Harrison will host a Town Hall Meeting. He will be available to meet attendees and answer their questions. The event is free and open to the public.

From 8:30 a.m. to 4 p.m. Nov. 5, Harrison will join four other LCMS pastors to discuss church-related topics. Scheduled presenters are:
Harrison, who will lead a discussion on "Is the LCMS thriving, or just surviving?"
the Rev. Dr. Dale A. Meyer, president of Concordia Seminary, St. Louis, "What's a Church to do in a pluralistic society?"
the Rev. Dr. David P. Scaer, holder of the David P. Scaer Chair of Systematic and Biblical Theology and chairman of Systematic Theology at Concordia Theological Seminary, Fort Wayne, Ind., "What side of the bed should the Church get up on? The Tea Party or The New York Times?"
the Rev. Dr. Dean W. Nadasdy, senior pastor of Woodbury Lutheran Church, Woodbury, Minn., and former fourth vice-president of the LCMS, "Does what happens in the pulpit make a difference in the pews?"
the Rev. Dr. Dien Ashley Taylor, pastor of Redeemer Evangelical Lutheran Church, the Bronx, N.Y., "Can a Christian be a socialist?"
"The One-Day Seminary invites our LCMS thinkers for meaningful, engaging dialogue to help expose our audience and the speakers themselves to varying perspectives on several important issues affecting our Church," said Concordia College President Rev. Dr. Viji George. "We are pleased to welcome President Harrison and the many active members of our Church community to our campus in what we expect will be a thought-provoking and memorable experience."

Registration for the One-Day Seminary is $25 and includes lunch. The event is free for college-age and younger students.

To register for the One-Day Seminary and the Town Hall Meeting, visit http://concordiaevent.org/ods. Registration for both events is encouraged. Groups of six or more should contact the Rev. Greg Dwyer, director of Church Relations, at 914-337-9300, ext. 2198, or gregory.dwyer@concordia-ny.edu.
Posted Oct. 27, 2011/Updated Oct. 28, 2011