Concordia College in Selma, Ala., received on June 23 a reaffirmation of its accreditation by the Commission on Colleges of the Southern Association of Colleges and Schools (SACS).
Concordia, Selma — one of 10 LCMS colleges and universities nationwide and the only historically black Lutheran college in the country — was placed on "probation" status by the SACS two years ago for missing the mark on several of the a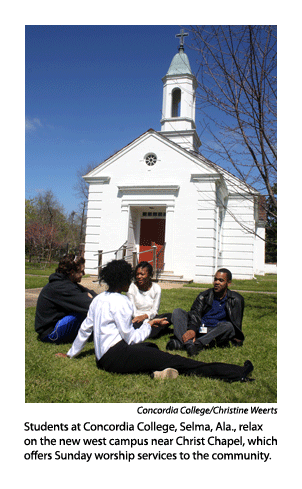 gency's accrediting standards.
Since then, the school has "worked hard" to become "more effective and stronger," said Concordia College President Dr. Tilahun Mendedo.
"This reaffirmation process has been a challenging … yet positive and affirming experience for the college," Mendedo said. "We have strengthened our educational programs, restructured how we document student learning outcomes, improved administrative support services, established a stronger fundraising policy, advanced educational support services and promoted research-based planning in community services."
The SACS Commission on Colleges is the regional body for the accreditation of degree-granting higher-education institutions in the Southern states. Concordia, Selma, which has been accredited by the agency since 1983, awards an Associate degree in general studies and Bachelor of Science degrees in education and business management.
The school, founded in 1922 by LCMS missionary-educator Dr. Rosa Young, today serves a diverse student body of more than 650 students from a dozen countries and all 50 states.
"SACS reaffirmation is very important to our college," said Mendedo. "As an institution of higher education, we value the approval of our peers who make up the Commission on Colleges. This stamp of approval signals to our students and the community that Concordia College is a diverse, global institution of excellence, and a leader in developing intellectual, spiritual and moral leaders of Christ-centered justice."
Concordia, Selma, differs from other Concordia University System (CUS) schools, noted Mendedo, because some 90 percent of its students qualify for maximum financial aid and because it is located in the "deep South and among very few Lutheran congregations."
But the city's connection to the 1960s civil-rights movement makes Concordia's location "an asset" to the LCMS, he said, providing "another door for national and international mission opportunities."
As a result of the reaffirmation process, the school has taken a number of positive steps, including the establishment of:
a planning council, with campus-wide participation and regular meetings.
ongoing training for faculty and staff in collecting and using assessment tools.
a foundation and assistance from a consultant and development professionals nationwide to raise and manage funds for the college.
strategies to help ensure financial stability.
policies and procedures to ensure effectiveness, efficiency and conformity of operations in the business and financial-aid offices.
recruitment strategies to increase student enrollment.
a campaign plan to increase pledges, gifts and grants by at least 15 percent in each of the next four years.
Mendedo said the school is called not just to higher-education principles, but also to mission and ministry.
"We can be a good launching pad for Christian mission in terms of raising young men for holy ministry and leaders, educators, pastors — and church workers in general," he said.
Enrollment this fall is expected to rise to 715 students — an increase of 9 percent over spring 2011, Mendedo said. And, while the student body is predominantly African-American, it is "heading in a direction to be as diverse as possible." The future of U.S. higher education is diversity, he said, and that's his vision for Concordia, Selma — a school with "no color line."
He thanked the school's alumni, faculty, staff, board of regents, donors and "[LCMS] leadership — past and present," who have been "very generous and very supportive."
With God's help, he said, "we have made a big difference. It's a new day here now."
For more information about the college, visit its website at www.concordiaselma.edu/.
Posted July 15, 2011