Concordia University Wisconsin will host a weekend celebration marking 50 years of lay ministry training June 17-19 on its campus in Mequon, Wis.
"Unity in Purpose — Diversity in Service" will offer opportunities for p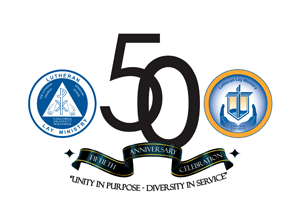 articipants to "remember the five decades of blessings God has given lay training and explore future avenues of ministry and service," according to the university.
Daily themes for the three-day weekend will be "Honoring our Past," "Honoring our Present" and "Honor the Future."
The agenda includes breakout sessions on mission, evangelism, technology in ministry, youth ministry, fundraising and service in retirement; tours of both the old and new campuses; a banquet; and entertainment.
Registration is $10 per person, or $15 per couple.
The Lutheran Lay Training Institute began in 1961 as a two-year, on-campus program at the former Concordia College, Milwaukee. In 1970 the institute became the Lay Ministry program.
In 1990 a four-year B.A. program for Lay Ministry Certification was begun at Concordia, by then a university relocated in Mequon, Wis., and lay training was available at off-campus sites around the country. In 2009 the first lay ministry courses were made available online.
"The Lay Ministry Certification program is ideal for second-career people who wish to become rostered within the LCMS," said Dr. Albert Garcia, director of the program. Graduates are certified lay ministers and are eligible to receive calls to serve LCMS congregations by assisting pastors in areas such as lay leadership development and education, youth ministry, evangelism and worship.
The e-learning lay ministry cohorts begin in January and June with an on-campus course that orients students to both the program and the online course format. Two eight-week courses are taken consecutively each semester at a pace tailored to each student's needs.
Lay ministers serve as youth directors, missionaries, church administrators, religion instructors, parish nurses, social workers, home visitors and evangelists in congregations and deaf and ethnic ministries.
For more information about the Lay Ministry program at Concordia University Wisconsin — and about the 50th Anniversary Celebration, including how to register — contact the Lay Ministry office at 262-243-4343 or via e-mail at ellen.leslie@cuw.edu.
Posted Feb. 24, 2011