Each LCMS congregation will receive this summer a free copy of a new Bible study on the Synod's threefold "Witness, Mercy, Life Together" emphasis, including a video version on DVD.
The mid-July mailing, funded by a donor, also will include a bulletin insert and a poster designed to help congregations promote the new Bible study among their members.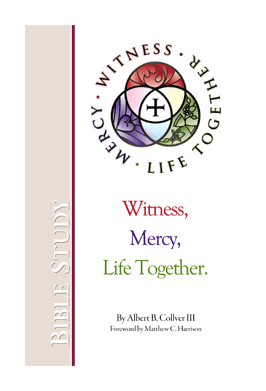 "Witness, Mercy, Life Together describes what the Church does in this world while living under the shadow of Jesus' cross," writes LCMS President Dr. Matthew C. Harrison in a letter that will accompany the mailing. "From the Gospels, we see that Jesus' work is to bear witness, show mercy and share His divine life together with His people. In a similar way, the Church, as the bride of Christ, engages in Witness, Mercy Life Together."
Harrison says in the Bible study's Foreword that he prays "Lutherans everywhere will be motivated and empowered by the blessed Gospel of free forgiveness in Jesus, that we live ever more into what we are in Christ, bearing witness to Him, being merciful to all, and living together in love."
The 64-page Bible study was written by Dr. Albert B. Collver III, the Synod's director of Church Relations — assistant to the president, and the DVD features Harrison. Both resources were developed from a series of presentations Harrison made to staff at the LCMS International Center in January.
The five lessons of the Bible study explore the biblical basis of the "Witness, Mercy, Life Together" emphasis, and include explanations of Greek terms and references to specific Bible passages, as well as leader notes for each lesson and a suggested hymn.
In his introduction, Collver explains that the emphasis "developed as a way to get a handle on the restructuring of The Lutheran Church–Missouri Synod, mandated by the July 2010 convention in Houston, Texas.
"The restructuring of the Church," Collver writes, "should take place in such a way that the Church, as it is found in the national office, in districts, and in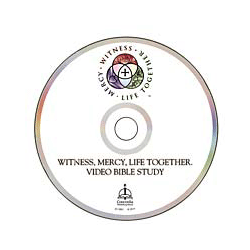 congregations, engages in the work Christ has given His Church to do. The Witness, Mercy, Life Together emphasis emerged as a descriptor of what the Church has done from Pentecost until today."
"Pastors who are planning their fall Bible studies should consider using the new Witness, Mercy, Life Together materials," says Rev. Robert C. Baker, senior editor of adult Bible studies at Concordia Publishing House, which produced the new resource. "We were pleased to partner with the president's office in this important effort."
Additional copies of the print Bible study (item no. 203989WEB) are available for $5.99 each for one to nine copies, $5.49 each for 10 to 24, $4.99 each for 25 to 49, and $4.49 each for 50 or more.
The DVD ($10, item no. 203991WEB) features four video segments of 4 to 11 minutes each that are designed to complement and enhance the Bible study. (To watch a promotional video, click here.)
Both items will be available in mid-July, but may be pre-ordered now from CPH at 800-325-3040 or online at www.cph.org/wmlt. Prices quoted do not include shipping charges.
Posted June 9, 2011