By James Heine
Acting as the Board of Assignments, the LCMS Council of Presidents (COP) April 30 assigned first calls to 149 candidates certified for ministry by Concordia Seminary, St. Louis; Concordia Theological Seminary (CTS), Fort Wayne, Ind.; Concordia Lutheran Theological Seminary, S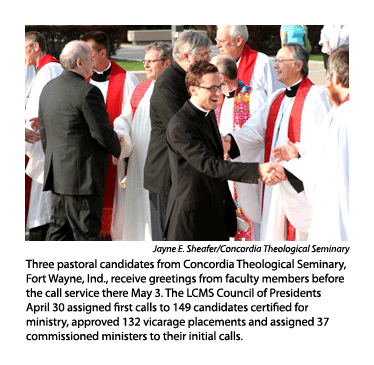 t. Catharines, Ontario, Canada; and through the colloquy process of the LCMS. Also, the COP approved 132 vicarage placements and assigned 37 ministers of religion-commissioned to their initial calls.
Concordia Lutheran Theological Seminary, St. Catharines, Ontario, is an institution of Lutheran Church–Canada, an LCMS partner church.
Awaiting placement at the end of May 3 and 4 call services were 10 pastoral ministry candidates.
"They are from both the St. Louis and Fort Wayne seminaries," said Southern District President Rev. Kurtis Schultz, chairman of the COP's Placement Committee. "As in past years, we have a good possibility of placing all of the remaining candidates by the end of this summer."
Today, Schultz added, the first-call placement process for the COP is a year-round activity, both for ministers of religion–ordained and ministers of religion–commissioned.
The April 30 calls to ministers of religion–commissioned included four deaconess graduates of Concordia Seminary, St. Louis. On May 19, at its deaconess placement service, six Concordia Theological Seminary deaconess graduates received their first placements.
The COP met April 29-May 3 at Concordia Theological Seminary. It participated in Call Day activities May 3 at Concordia Theological Seminary and May 4 at Concordia Seminary, St. Louis.
Also on the agenda: a meeting with the Fort Wayne faculty; presentations by Dr. Dean O. Wenthe, seminary president; Rev. Roland F. Ziegler, assistant professor of systematic theology; Dr. Tilahun Mendedo, president of Conco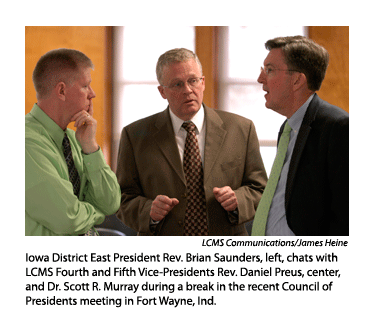 rdia College, Selma, Ala.; and Dr. Perry Bresemann, associate director of schools and national director of technology for LCMS Congregational Services.
As part of its visit to the Fort Wayne campus, the COP toured the new addition to the seminary's Walther Library, and Synod President Dr. Matthew C. Harrison continued his discussion of Walther's Theses.
Although a COP meeting with the faculty of Concordia Seminary, St. Louis, had been anticipated, scheduling difficulties prevented the meeting, which will be held when the COP is on the St. Louis campus in May 2012.
Reorganization update
In his regular report to the COP, Harrison updated the council on the reorganization mandated by the 2012 convention and on the national Synod's financial picture and budget challenges.
"The financial pain at times has been unbearable," Harrison said, "Yet, we just can't spend money we don't have any more."
Harrison also announced that Chaplain (Col.) Rev. Gregory K. Williamson, now serving in Seoul, South Korea, has accepted a call to serve a three-year term as the Synod's chief mission officer (CMO) and that Rev. John Barton "Bart" Day will join the Synod staff July 1 as executive director of the church body's new Life Together department, which will include the national mission functions of the ministries based at the Synod's International Center in St. Louis.
Harrison said Williamson plans to begin serving in his new post in January, when his military obligation is fulfilled. Also, Harrison said, an executive director for the new Witness and Mercy department (international mission functions) will likely not be called until the next year.
'Partners' in ministry
After a late-morning presentation by Ziegler on "the doctrine of ministry and its afterlife in the Missouri Synod," the COP spent all of May 1 in conversation with the CTS president and faculty members. Facilitated by Dr. Lawrence A. Rast, academic dean, and Southeastern District President Dr. Jon A. Diefenthaler, the discussion focused on two main topics: the Synod's Specific Ministry Pastor (SMP) program and recruiting and training worker-priests.
"We're both partners in a big sense," Diefenthaler said in his opening remarks.
After topic introductions by Dr. Arthur A. Just Jr., professor of exegetical theology and director of deaconess studies program at CTS, and Northwest District President Paul A. Linnemann (concerning SMP), and by Wenthe and Kansas District President Rev. Keith Kohlmeier (worker-priests), the participants engaged in small-group discussions, seeking way in which the COP and the seminary could complement each other's work, especially in the formation of Specific Ministry pastors and in identifying bi-vocational pastors.
"The faculty and I thought the conversation with the Council of Presidents was stimulating and profitable," Wenthe said. "The fraternal spirit, the candid exchanges, and the analysis of SMP/worker-priest advantages and challenges exhibited a common goal of serving the people of God with substance and excellence."
It was evident, Wenthe added, "that the care of souls with pastoral integrity and ability was at the forefront of all the discussions."
Dr. Larry Stoterau, president of the Pacific Southwest District and chairman of the COP, agreed: "We appreciate the time spent with the faculty during our meeting in Fort Wayne. We are all learning the value of the Specific Ministry Pastor program and how the COP and faculty can work together to strengthen this valuable program."
Stoterau also said the council appreciated the opportunity to hear "the challenges and joys of the faculty members as they prepare men for service in the Church."
Not 'unchurched,' but 'unsaved'
The COP also continued its focus on the "unchurched" terrain with a presentation by Rev. Greg Manning, pastor of Gloria Dei Lutheran Church, New Orleans, La.
A third-generation Lutheran and a 2000 graduate of CTS, Manning suggested that churches see people, not as unchurched, but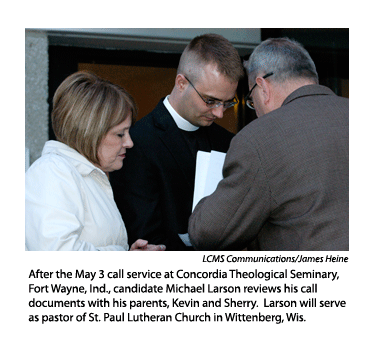 as unsaved.
The term "unchurched" needs to "go out the window," Manning said.
"Let's call it the way Jesus did. They are the lost."
Like the apostle Paul in Romans 9, we need to "have a yearning – an anguish – for the lost," he added. "You're going to hell, and my heart hurts for you," Manning said.
In his own ministry (Gloria Dei is an inner-city parish), Manning said he strives to reach out with intentionality, just as Jesus did with Zacchaeus in Luke 19. In his neighborhood, like similar neighborhoods across the country, "there are no fathers out there," Manning said. While the young people he encounters might look upon his work as being that of a father, Manning sees it as discipleship.
"Discipleship is about seeing someone in a different place," Manning said, offering the example of Aaron, a young man with whom, when they go out for lunch together, Manning first asks, "Who's gunning for you today?"
"I've got to see him as a redeemed child of God," Manning said. "Aaron has had everybody in his life give up on him. I want him to know, 'I'm not going to give up on you, no matter what.'"
Discipleship requires giving of yourself (John 15:15), Manning said. It requires constant teaching (Matt. 28:20), and the confidence that "a few can reach many."
"I've learned in ministry that I can't be afraid," Manning said.
In other action, the COP:
elected Wyoming District President Rev. Richard O. Boche to represent the COP on a task force to study "future district function and makeup." The task force is mandated by 2010 convention Resolution 8-07, which directs the president of the Synod to convene a task force to work in consultation with the COP and LCMS Board of Directors and submit to the 2013 convention recommendations concerning the future function and makeup of the Synod's 35 districts.

In addition to Boche, the task force will include a lay and rostered representative from each of the five current geographical groupings of the Synod's districts, a district executive, a member of the Blue Ribbon Task Force on Synod Structure and Governance, a member of the Commission on Constitutional Matters, and the chief mission officer of the Synod.

In response to an observation by South Dakota District President Rev. Dale Sattgast that in his district there is some skepticism about the new task force and its assignment, Harrison noted that, in his opinion, "forcing a new configuration from above would be counterproductive." The most constructive way of approaching the task would be from the "ground up," he said.

received a report from Dr. Tilahun Mendedo, president of Concordia College, Selma, Ala., regarding the accreditation status of the college, as well as the institution's financial outlook and student enrollment prospects. Mendedo explained the most pressing need was to raise some $650,000 by early June in order to satisfy the financial requirements of the Southern Association of Colleges and Schools, Selma's accrediting agency. He asked for the COP's prayers, the financial support of their districts in meeting his school's immediate financial needs, and that they pass along to others the need for immediate financial help.
received an update from Dr. Perry Bresemann, associate director of schools and national director of technology for LCMS Congregational Services, regarding a self-evaluation tool for pastors considering calls to congregations with schools. Bresemann presented a draft of the self-evaluation document to the COP and asked for their comments and suggestions.

Bresemann said the goal of the document was to help pastors considering such calls to understand what might be different from serving a congregation without a school. Congregations with schools operate with specific – and sometimes challenging – realities, he said, and in the best circumstances, a pastor will be aware of and comfortable with that environment.

A healthy school environment begins with a vibrant relationship among its leaders, Bressmann said. "Your actions and words are going to speak," he explained.

Received a recommendation from Synod Secretary Dr. Raymond Hartwig that their districts take the opportunity now to review their bylaws and submit any updates to the Commission on Constitutional Matters by this fall. "You will need to do this in time for your district convention next year," he said.

Also, because of the change in the way the president of Synod is elected (Bylaws 3.12.2.1 to 3.12.2.3), Hartwig encouraged the COP to have their districts "get serious about who your delegates can be for district conventions." The district secretary "will have a lot to do," Hartwig added. It "will be a fairly huge challenge to conduct this election," he said.
Vacancies
COP Secretary Rev. William Klettke, president of the New Jersey District, reported that, following spring placement April 30, with all 35 districts reporting, 199 LCMS congregations were calling sole pastors; 32, senior pastors; and 28 associate or assistant pastors. He also reported 162 congregations with temporary non-calling vacancies and 416 with permanent non-calling vacancies.
The COP next meets Sept. 17-20 in St. Louis. It also will participate in the Sept. 20-22 "National Missions Conference" at the LCMS International Center in St. Louis. Invited to the conference will be the COP, district mission executives and others who are involved in national missions.
Posted June 1, 2011