By James Heine

At its meeting Nov. 15-17 in Raleigh, N.C., The Lutheran Church–Missouri Synod Council of Presidents (COP) continued its ongoing conversation about the church in a post-church culture.

The council heard from the Rev. Bill Beyer and the Rev. Mike Merker, pastors of two LCMS Southeastern District congr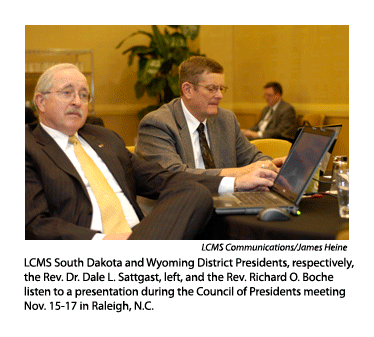 egations that began as mission efforts during the past decade. In both cases, the congregations began in communities where there was no previous LCMS presence.

Beyer is pastor of Holy Cross Lutheran Church in Clayton, N.C., and Merker is pastor of Jordan Lutheran Church in Apex, N.C.

Also, the COP heard reports from Synod Secretary Rev. Dr. Raymond L. Hartwig; LCMS Office of National Mission Executive Director Rev. Bart Day; Jim Sanft, Concordia Plans president and CEO; Concordia Theological Seminary President Rev. Dr. Lawrence R. Rast Jr.; and Synod President Rev. Dr. Matthew C. Harrison.

Harrison updated the COP on the work of his office during August, September and October. Also, he continued his discussion of Walther's Theses, briefly updated the council on the status of restructuring at the LCMS International Center, and offered his reflections on the recent International Lutheran Theological Conference in Prague and the Synod's third dialogue with the Anglican Church of North America.

"It was truly a blessing to attend the theological conference in Prague," Harrison said.

He added that "it is critical that the Missouri Synod continue to provide leadership for this type of theological interchange to occur — not only with our sister synods around the world but also in such a way as to include other Lutheran groups who are hungering for rich, Lutheran theological fare."

The COP meeting was held in conjunction with the annual Lutheran Church Extension Fund Fall Leadership Conference Nov. 18-20. On Nov. 17, the COP also took part in a joint meeting with the LCMS Board of Directors.
Church-planting: two perspectives

Holy Cross Lutheran Church in Clayton, N.C., began as a mission charter in 2001. Today, it is a congregation of some 800 baptized members with its own facility and a well-received Open Arms child-care center. It is the first Lutheran church in Johnston County, N.C., and recently had 100 people in its new-member class, all of whom joined the congregation.

Jordan Lutheran Church in Apex, N.C., began as a mission site in 2008. At the end of this past November, Jordan's members voted to become a self-sustaining congregation in 2012. Today, it meets in a local movie-theater complex. It has a baptized membership of 209 and an average weekly worship attendance of 131.

Although it is quickly outgrowing its present worship space, the congregation has no immediate plans to acquire property for its own building; rather, it will move to a larger theater at its current location — at no extra cost to the congregation.

The rationale for remaining includes two other parts, according to Merker:
Purchasing land and building a church might turn the congregation "inward" and inhibit it from reaching people not inclined to set foot in a regular church.
The theater is in an excellent location, even for liturgical worship.
"Our structure on Sunday mornings is to project the hymns onto the movie screen, as well as portions of the liturgy. This was done so that we could put a Bible into the hands of those who attend on Sunday morning. Technology allows us to use the hymnal's resources [Lutheran Service Book] while being a church that actively encourages opening God's Word every Sunday morning."

This "will not work everywhere," Merker said of Jordan's arrangements, "but God has given us a great opportunity to use the resources of our community."

Jordan is not looking to be the next megachurch, he added. "We simply do our very best to love our community and share the story of the Good News about Jesus. In turn, God continues to open more and more opportunities every week."

While Holy Cross did not begin in a movie theater, it did have as its first location a roller-skating rink. The congregation purchased land in 2003 and dedicated its church in 2006.

The Open Arms center is an important part of Holy Cross' mission to its community because Clayton is a commuter suburb. The center is state-licensed and seeks to provide the best care available to Clayton families, Beyer said.

While not every family that uses the Holy Cross Open Arms center is part of the congregation, Beyer said he makes it a point to know every family involved with the center and to ensure that each family knows the center is a ministry of Holy Cross and that they are welcome to participate in all the activities of the congregation — from worship to the congregation's food-drive efforts at Thanksgiving and Christmas.

"This has been an amazing experience for me over the past 10 years," Beyer said.

(To read a sidebar story, "On planting congregations: advice from Beyer, Merker," click here.)

Recalling two reports

In a Bible study that preceded Beyer and Merker's presentation and, in part, set the stage for it, Iowa District West President Rev. Dr. Paul G. Sieveking urged the COP to recall two "little-known or long-remembered" reports from years past: the Commission on Theology and Church Relations' (CTCR) 1991 "Theological Statement on Mission" and the 2004 task force convention report on "Mission in the 21st Century."

Referring to the 2004 document, Sieveking noted that the first 60 years of the 20th century in America could be defined as a "churched" culture, while the latter four decades reflect a drift into an increasingly secular, non-church culture.

In reflecting on those last four decades, there is also "a great sense of grief at what has been lost," Sieveking observed.

Yet, in spite of the 20th century's great cultural shift, we cannot lose sight of the fact that "we live in a world that faces death and eternal damnation," a world that is desperate for answers, Sieveking said.

Quoting from the 1991 CTCR statement, he said: "Each of us has received from God's hand grace upon grace, all flowing from the sacrificial service of the one Who laid down His life for us on the cross. We cannot, therefore, leave the work of God's mission to 'the church' in general or to 'others' who may appear more gifted for the task or to 'the pastor.' What an honor it is to follow in the footsteps of God's Servant-Son, and to share with others the love He has so freely and fully bestowed on us! Each of us is a personal letter from Christ to the world (2 Cor. 3:2-3), telling all who will listen of His grace, mercy and power."

"I commend these reports to you," Sieveking told the COP.

Concordia Plan Services

After an introduction by Plans board Chair Fred G. Kraegel, President and CEO Jim Sanft presented an overview of the current status of Concordia Plan Services (CPS).

Despite the tough economic conditions, the Plans remain relatively in good shape, Sanft told the COP. Also, the Concordia Health Plan (CHP) is compliant with the applicable requirements of the new federal health-care legislation. Under the new law, the CHP is being operated as a "grandfathered" plan, that is, participants in the plan can keep the coverage they acquired before passage of the new regulations. Because of "grandfathering," the health plan also remains exempt from some of the new regulations, Sanft said.

Sanft said the Plans continue to work with the Church Alliance, a coalition of 37 denominational benefit programs that provide pension and health benefits to more than a million members, including clergy, lay workers and their families. Among its activities: The alliance seeks to ensure that the concerns of church-benefit programs are heard as new health-care regulations are implemented. To date, the alliance has been successful in presenting its concerns to regulators, Sanft said.

Looking forward to 2014 and beyond, regardless of the outcome of the health-care case before the U.S. Supreme Court, or the outcome of the 2012 elections, Sanft said he is "confident there will be a viable Concordia Health Plan." However, he noted that Plan options may be structured in a very different way.

The Concordia Retirement Plan (CRP) currently is sound also, Sanft said. The CPS board and staff are in the midst of "a comprehensive review of the CRP and our ability to manage risk in this new economy."

The watchword in all this, he added, is caution. The Plans have been able to weather the recession because of a disciplined, long-term approach to investing. However, the continued stagnant economy may present future challenges.

For 2012, the Plans will focus on several key areas, Sanft said. Among them, a robust Web strategy and increased education efforts. Also, the Plans will continue to monitor health-care reform efforts closely.

In answer to a question about the demise of Walgreens as a network pharmacy through Express Scripts, Sanft said the two entities, Walgreens and Express Scripts, simply have not been able to arrive at a mutual business accommodation. Yet, Express Scripts remains an important CHP partner and has been instrumental in holding down and even reducing some CHP costs, he said.

In addition to their COP presentation, Kraegel and Sanft also made a presentation to the LCMS Board of Directors.
First call and vacancies

The COP assigned first calls to 28 candidates certified for the pastoral ministry and 20 candidates certified as commissioned ministers. It also approved 12 vicarage placements.

At the conclusion of the meeting, COP Secretary Rev. William Klettke, president of the New Jersey District, reported that 221 LCMS congregations were calling sole pastors; 37, senior pastors; and 45, associate or assistant pastors. He also reported that 430 congregations were listed as having temporary non-calling vacancies.

Numbers from all 35 LCMS districts were included in his report, Klettke said. He also noted that since the September COP meeting in St. Louis, districts had reported 21 new starts and seven closures.

The COP next meets Feb. 18-21 in St. Louis. The agenda will include a meeting with the faculty of Concordia Seminary, St. Louis.
Posted Dec. 14, 2011