For the 16th consecutive year, Concordia Publishing House reached out to its South St. Louis neighbors — many of whom have limited incomes — by giving away food, drinks, gifts and warm (with the temperature over 100 degrees!) smiles.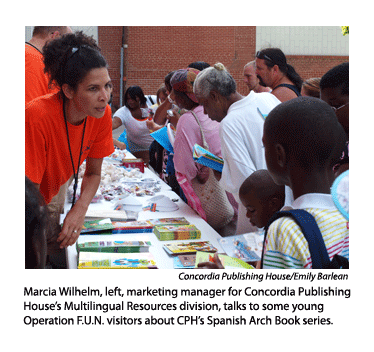 Operation F.U.N. (For a United Neighborhood) began as a huge block party and has evolved into a back-to-school event that provides backpacks of age-appropriate school supplies and CPH books to neighborhood children as well as students at local schools.
In spite of the searing heat, this year's event provided more than 700 area children with backpacks, activities and meals of hot dogs, chips and drinks.
"Community involvement with an emphasis on sharing the Gospel message remains the focus for Operation F.U.N.," said CPH President and CEO Dr. Bruce G. Kintz. "We were proud to show the community our dedication and hearts to serve in the St. Louis metropolitan area."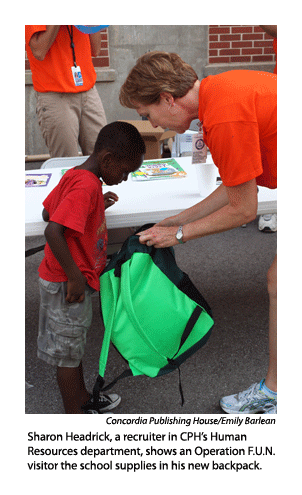 More than 50 CPH employees helped distribute the free backpacks and other items. Officers from the St. Louis Police Department provided guests with safety information, a life-sized mascot named "Safety Sam," and the chance to sit in a police cruiser and turn on the siren.
"We are committed to this community," said Kintz. "The neighborhood is always so thankful for this quality, family-friendly event, and we are so glad to provide for our South St. Louis family."
Alderman Craig Schmid, who has attended the event in recent years, said CPH "is not only talking the talk of the Gospel message, but walking the walk." Schmid said he and others "appreciate their service to the community."
Posted Aug. 11, 2011