Editorial Concordia, the Spanish division of Concordia Publishing House, has produced a new vacation Bible school program that is available in Spanish and bilingual (Spanish-English) formats.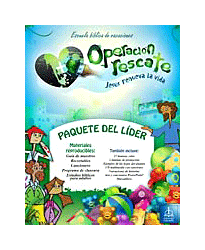 The one-of-a-kind program, Operación rescate — Jesús renueva la vida ("Operation Rescue — Jesus Renews Life"), is not a translation but was produced in Spanish.
The story focuses on a toy factory, where workers are getting sick because of pollution that is spreading to creeks, rivers, trees and the air. As the workers take action to correct the problem, the production of toys is restored and the manufacturing process is improved, resulting in a healthier environment for everyone.
On its website, CPH describes the scriptural foundation of the program this way: "When sin entered our world, it polluted everything, human beings as well as the rest of God's creation. God the Father sent Jesus to rescue us from our sin and now we are being sent to rescue others, and to help rescue God's creation by taking good care of the world in which we live."
The program is designed to be used by Spanish-speaking congregations, congregations that want to reach out to their Spanish-speaking neighbors, or groups involved in overseas mission work.
Each day of the VBS begins with a shared time for praise, when children can learn and sing the program's songs. Leaders read the daily story or play the narration recorded on CD, and then present the Bible story.
Later, the children are grouped according to age for more activities, including worksheets and crafts.
"Operation Rescue" includes lessons divided into four levels (ages 3-5, 6-8, 9-11 and 12-14), a teachers guide with reproducible Bible studies for adults, color posters, songs, promotional materials and crafts.
The Leader's Pack, which includes all materials, is available in Spanish ($54.99, item no. 166427WEB) and bilingual ($59.99, item no. 166433WEB) versions.
Some items, including student lessons, may be ordered separately.
For more information or to order, contact CPH at 314-325-3040 or 877-450-8694 (Spanish). Or visit its website at www.cph.org (Spanish-English website: www.cph.org/editorial).
Posted Jan. 6, 2011