More than 30 million children live with a stepparent in so-called "blended families," according to Concordia Publishing House. Although each blended family has a unique set of circumstances, each also faces similar challenges: Where s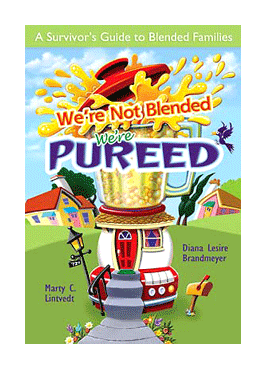 hould we live? Should we change our children's last names? Who disciplines whom?

In their new book, We're Not Blended, We're Pureed, author Diane Lesire Brandmeyer and licensed family counselor Marty C. Lintvedt ask if two families can ever learn to cohabitate in peace. With the help of God, they say, the answer is yes.

The book, sort of a stepfamily "survival guide," is written for stepparents, dating couples, newlyweds, pastors and counselors. It pairs Brandmeyer's real-life experiences with advice from Lintvedt on topics such as:
the pros and cons of changing your children's last names.
how to deal with sibling rivalries.
what to do when siblings try to pit parents against each other.
why in-laws may resist accepting you or your children.
how to discipline.
We're Not Blended — We're Pureed ($14.99, item no. 124343WEB) may be ordered by calling CPH at 800-325-3040 or visiting its website at www.cph.org. Price quoted does not include shipping charge.
To find out more about the book, click here.
Posted Aug. 17, 2011