By Kim Plummer Krull
Plans are in the works to dedicate three Lutheran villages in January in Haiti, the new homes of earthquake survivors who are among the "thousands touched by Christ's mercy" and a milestone in LCMS "team work" that began nearly two years ago.
Homeless Haitians are in the process of moving from squalid refugee camps and other makeshift conditions into the villages, built by the LCMS in partnership with the Evangelical Lutheran Church of Haiti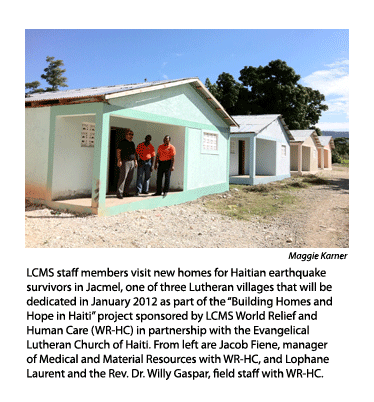 (ELCH) through the "Building Homes and Hope in Haiti" (BHHH) project.
"From the devastation and despair of two years ago, we now see hope for the future in the eyes of Haitians touched by Christ's mercy through the work of the church," said the Rev. Glenn F. Merritt, director of LCMS Disaster Response, referring to the catastrophic quake that devastated the Caribbean country on Jan. 12, 2010.
The villages are located in Jacmel, Beaudouin and Leogane, each built according to the BHHH plan to provide safe, permanent homes as part of communities anchored by local ELCH congregations. A new ELCH seminary headquarters is under construction at the Leogane village. Two of the communities include medical clinics set up and equipped by the LCMS and Haitian Lutheran partners.
"People are living in secure Lutheran villages, going to clinics and will be trained at the new ELCH seminary headquarters," Merritt said. "Through this project and so many others, the LCMS and the church at-large have done so much to ease suffering, meet needs and share Christ."
BHHH is one of seven major collaborative projects made possible by more than $5.6 million donated to LCMS World Relief and Human Care (WR-HC), the Synod's mercy arm, for Haiti earthquake response.
As the two-year anniversary of the disaster approaches, the Rev. John A. Fale, interim co-executive director of the Synod's Office of International Mission, noted the importance of "thanking our donors and partners and clearly communicating how their gifts and support have been used since the quake." (Click here to read related story, "Haiti overview: $5.6 million in aid.")
"This has been a real team effort," Fale said of the disaster response. "LCMS donors have been extremely generous in reaching out to the people of Haiti. Thousands of lives have been touched by Christ's mercy. We couldn't have accomplished what we've done without our many partners, donors and volunteers."
Immediately after the disaster, the LCMS and partners began working together to deliver emergency assistance to suffering Haitians. Numerous "body and soul" projects followed, "helping families who lost homes, children who lost parents and people with desperate needs for medical care and clean water," Fale said.
The magnitude 7.0 quake killed more than 300,000, according to Haitian government officials; more than an estimated 600,000 people remain in displacement camps nearly two years later, according to news reports.

"One of the greatest outcomes of this terrible disaster has been the ministry that has come out of the mercy where people are turning to Christ, being baptized, joining the local Lutheran churches in Haiti," Merritt said.

Entire families have left the practice of voodoo and have been baptized into Christ, Fale said.

"As I reflect over the past two years of our work in Haiti, I marvel at the generosity of our donors, the tireless compassion and personal investment of LCMS International Center and deployed staff, the collaborative efforts of so many LCMS partner organizations and the resiliency of the Haitian people and the Lutheran pastors and church workers who have served them," Fale said.

"Those who are involved in this kind of work know how hard, tiring and complex it is," he added. "The Lord has blessed the fruit of our labors, just as He has promised in His Word. This response of mercy has opened up countless opportunities for Lutherans in Haiti to give witness to Jesus and His gifts."
LCMS leaders are finalizing plans for the dedication of the Lutheran villages the week of Jan. 26-31. The communities include a total of 67 homes and two six-unit apartment buildings, Merritt said, with a total capacity for some 300 residents.
Additional funds are needed, Fale said, for building to continue at the villages. The $5.6 million in donor gifts for Haiti earthquake response "is just about depleted," he said, and new construction and new projects in Haiti can only continue with new funding.
At present, only work associated with the Synod's long-term medical strategy and seminary training projects in Haiti are budgeted to continue beyond the current fiscal year, Fale said, without additional financial support.
Those projects include the more than 80 students who are studying at locations throughout Haiti with ELCH pastors and visiting professors from Concordia Theological Seminary, Fort Wayne, Ind. When the new seminary headquarters is completed at the Leogane village, theological education will be focused there.
An LCMS Mercy Medical Team of volunteers is scheduled to serve in Haiti in May 2012, the 10th such trek that will provide much-needed health care in the impoverished nation since the disaster.
In November, Maggie Karner, director of Life and Health Ministries with WR-HC, visited the new Lutheran villages in conjunction with work at the medical clinics provided by the LCMS in partnership with the ELCH and Lutheran Church of Haiti.
"I wish every one of our [WR-HC] donors who helped make these villages possible could see them," Karner said. The "thoughtfulness, sense of community and quality construction" gave her goose bumps, she said, compared to "some of the shanties others have thrown up and that will probably be down with the next hurricane."
"When you think of the devastation after the earthquake and see these Lutheran villages, it's really a miracle what God has accomplished," Karner said.
To help meet continuing needs in Haiti:
make a gift online (click here).
mail checks (noting Haiti Earthquake Relief in the memo line) to LCMS World Relief and Human Care, P.O. Box 66861, St. Louis, MO 63166-6861.
call toll-free 888-930-4438.
Any funds not needed for this relief effort will be used for other disaster purposes as determined by LCMS World Relief and Human Care. Your gift is tax-deductible to the extent permitted by law.
Kim Plummer Krull is a freelance writer and member of St. Paul's Lutheran Church, Des Peres, Mo.
Posted Nov. 23, 2011