Dr. Steven D. Paulson, associate professor of Systematic Theology at Luther Seminary in St. Paul, Minn., will offer two presentations April 26-27 at Concordia Theological Seminary in Fort Wayne, Ind.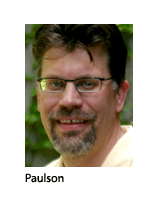 Speaking during a "fireside chat" at 7:30 p.m. April 26 in the seminary's Student Commons, Paulson will address "Responding to the New Perspective with Luther's Newer and Older Perspective."
The following day, at 11 a.m., Paulson will speak to a student convocation in classroom L-7 about "Luther on God's Hidden Work."
Both events are free and open to the public.
"Dr. Paulson is an outstanding theologian with a deep grasp on insights from Martin Luther for contemporary Christians. Incisive and articulate, Dr. Paulson has been a leading voice in critique of trends within his own church body, the Evangelical Lutheran Church in America," said Rev. John T. Pless, assistant professor of Pastoral Ministry and Missions at Concordia Theological Seminary. "I think pastors and laity alike will find his discussion of Luther's understanding of God's hidden work very valuable in addressing questions about God that often surface with a disaster like the recent earthquake and tsunami in Japan."
For more information, contact the seminary at publicrelations@ctsfw.edu 260-452-2250.
Posted April 13, 2011