Former LCMS Northern Illinois District (NID) President Rev. Dr. Edmund H. Happel died Sept. 20 at St. Alexius Medical Center in Hoffman Estates, Ill. The Rev. Dr. Happel, of Arlington Heights, Ill., had been recuperating from hip surgery. He was 92.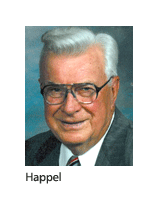 A funeral service was held Sept. 26 at Lutheran Home in Arlington Heights.
The Rev. Dr. Happel served as NID president from 1966 to 1985 and was designated president emeritus in 1985.
His daughter, Debra Snow of Wichita, Kan., said her father died peacefully after telling her brother, Donald Happel, and her sister, Diane Nordman, who were with him, "I love you, I love you, I love you" in "his loud pastor's voice."
"He was a wonderful father and husband," Snow told Reporter. "And he loved his family very much."
NID President Rev. Dr. Dan Gilbert called the Rev. Dr. Happel "a steady pastor to pastors. He served at a very difficult time in the Synod, and was a thoughtful and faithful leader in the Northern Illinois District."
The Rev. Dr. Happel was a 1944 graduate of Concordia Seminary, St. Louis, and received an honorary doctorate in 1975 from Concordia Theological Seminary, then in Springfield, Ill.
He served as pastor of St. John Lutheran Church, Natoma, Kan., from 1944 to 1947, and of Immanuel Lutheran Church, Dundee, Ill., from 1947 to 1959. From 1959 to 1966, he served as a mission and stewardship executive with the NID.
He was on the Board of Regents at Concordia College (now Concordia University Chicago), River Forest, Ill., from 1966 to 1985, and was chairman of the Concordia Mutual Life Board of Directors from 1983 to 1985.
Survivors include his wife of 67 years, Betty, of Arlington Heights, and seven children — Ronald Happel of West Chicago; Donald (Judy) Happel, Addison, Ill.; Jean (Charles) Taylor, Pittsburgh; Linda (Myron) Wetzel, Rochester, Minn.; James (Jan) Happel, Hoffman Estates; Diane (Mark) Nordman, Palatine, Ill.; and Debra (Scott) Snow, Wichita.
Memorials may be made to "The Lutheran Hour," the LCMS Joint Seminary Fund and the Concordia University System.
Posted Sept. 21, 2011/Updated Oct. 13, 2011