Lutheran school administrators and educators are invited to participate in a free live-stream webinar on Lutheran school branding and marketing March 1 at 4:30 p.m. Central time.
Sponsored by Lutheran Church Extension Fund (LCEF), the webinar will be at LCEF's "Project School Zone" channel on UStream at http://www.ustream.tv/channel/project-school-zone-live. Interested viewers can register online at http://schoolzone.eventbrite.com.
Project School Zone is a new resource from LCEF that highlights school marketing materials and support services to benefit recruitment and retention efforts in early childhood, elementary and secondary schools in The Lutheran Church-Missouri Synod. Project School Zone is online at www.lcef.org/schoolzone.
The March 1 webinar titled "Identity Crisis: Discovering and Developing Your School's Brand DNA" will fea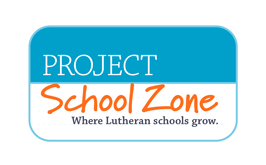 ture a panel of "mission-minded branding and marketing experts," according to Tim Voss, who manages Project School Zone. Voss is marketing manager of LCEF Ministry Services.
"We want to help schools acquire the materials and expertise they need to be competitive in their communities," Voss said. "The webinars are one way to do that. Our guests are experts not only in the area of marketing, but in marketing and branding in the context of a ministry."
Scheduled webinar panelists include Joseph Snyder, director of marketing and communications for Lutheran Hour Ministries; Jane Wilke, director of communications at Lutheran Senior Services in St. Louis; Mary Rakoski, senior marketing manager for curriculum, Concordia Publishing House; and Glenn Mahnken, senior vice president for marketing, LCEF.
Viewers can participate with the panelists by asking questions via a chat feed at the UStream website or by posting questions via Twitter and Facebook on the UStream site. Administrators and interested viewers in the St. Louis area are welcome to attend the event at Lutheran Hour Ministries, 660 Mason Ridge Road, St. Louis. Maps, details and other information are available at http://schoolzone.eventbrite.com.
For more information about Project School Zone, contact Voss at tim.voss@lcef.org or 800-854-4004, ext. 6358.
Posted Feb. 28, 2011