Lutheran-school educators and administrators are invited to join in a free live webcast to help with their schools' branding efforts Wednesday, Nov. 9, at 4 p.m. Central time.
This 50-minute webcast episode — the first of four to be offered in the current school year by Lutheran Church Extension Fund (LCEF) as part of its "Project School Zone" — is titled "Live the Brand: Crafting a Consistent Story from Front Door to Faculty."
To access the live-stream webcast, Lutheran school leaders need only go to the Project School Zone Ustream Channel at http://www.ustream.tv/channel/project-school-zone-live.
Although it is not required, viewers are being encouraged to pre-register for the webinar through Eventbrite at http://projectschoolzone.eventbrite.com. Those who pre-register will receive via email pre-cast information that's designed to be helpful.
The Nov. 9 webcast will feature an in-depth interview with Spencer Peregoy, principal of St. John Lutheran School, Ellisville, Mo. In 2008, that school received the national Blue Ribbon School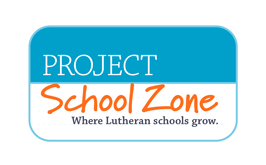 award from the U.S. Department of Education.
According to an LCEF news release, the webcast will include best-practice recommendations for schools of all sizes and settings, and is "meant to improve branding efforts by focusing on identifying, differentiating and shaping a school's unique mission story."
Online viewers may ask questions and share comments during the program via Twitter, Facebook and Ustream. Twitter users may submit questions or comments prior to the webcast using the hash tag "#PSZLive."
Topics for later webcasts are:
"Shoestring Strategy: Highly Effective Branding on a Budget";
"A Whole New You: Reinventing Your School Story in the Face of Challenges, Changes and Crisis"; and
"That's MY School: the Role of Students and Parents in Effective Branding Strategy."
During the 2010-11 school year, LCEF's Project School Zone three-part branding webinar series attracted more than 200 real-time viewers, and that series' archived videos have been viewed more than 950 times at the Project School Zone Ustream channel.
Project School Zone is LCEF's resource for school marketing materials and support services, intended to benefit recruitment and retention efforts in early-childhood education, as well as elementary and secondary schools throughout The Lutheran Church-Missouri Synod. Project School Zone is online at www.lcef.org/schoolzone.
The LCEF news release notes, "When it comes to branding, many Lutheran schools struggle." It also points out that in a 2001 LCEF survey, "90 percent of Lutheran principals who responded agreed it is important for schools to brand themselves. Yet, 78 percent graded their schools' branding efforts 'C' or lower."
Posted Nov. 3, 2011