A new Holy Week video message from LCMS President Rev. Matthew C. Harrison is available for viewing on the Synod's website.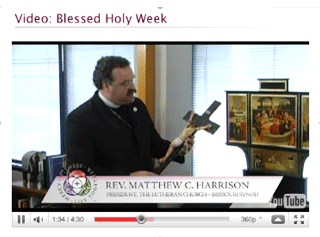 In the video, Harrison reflects on the crucifixion as a reminder that, as Jesus trekked to the cross, His suffering was for the forgiveness of all of our sins and the sins of the world. Knowing this, we can be confident that, even when difficulties come in our own lives, the Lord controls all things, Harrison says.
To watch the video, click here.
Posted April 18, 2011