Reservations are required by July 1 for a 12-day tour of Germany hosted by Synod President Dr. Matthew C. Harrison and Rev. Jon Vieker, senior assistant to the president.
Produced by LutherTours, the Nov. 30-Dec. 11 tour coincides with the 200th anniversary of the birth of Dr. C.F.W. Walther, founding father of Th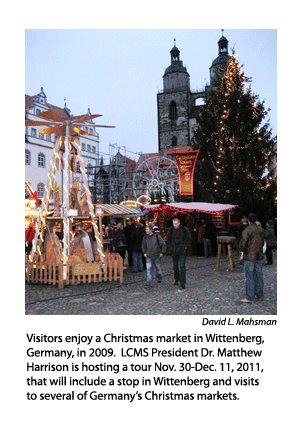 e Lutheran Church–Missouri Synod and its first president, and will focus on sites that were significant in both his and Martin Luther's lives. Also included will be visits to several of Germany's Christmas markets.
Harrison, who has studied and translated Walther's and Luther's work throughout his professional life, has visited many of the cities included on the tour, some several times.
The tour will include the cities of:
Eisenach and its Wartburg Castle, where Luther translated the New Testament into the German language.
Erfurt, where Luther lived as a monk, and a visit to the town's Christmas market.
Eisleben, where Luther was born in 1483 and died in 1546.
Mansfeld — which was home to Luther's parents — and its castle, which he visited often.
Quedlinburg, with its more than 1,000 timber-framed buildings and home of the largest Advent calendar in Germany.
Potsdam, where tour members will visit the UNESCO World Heritage Site and Palace Sanssouci, the summer residence of Frederick the Great.
Wittenberg, to see Castle Church, the historic "95 Theses" door and City Church.
Torgau, with the first-ever Protestant church building.
Dresden, which is home to the Frauenkirche — a church that was destroyed in 1945 but was reopened in 2006 after years of reconstruction.
Schneeberg, where Walther attended Latin School, and the towns where he was born and ordained.
Leipzig, where Walther attended university and Johann Sebastian Bach served as kantor in the city's St. Thomas Church. The tour concludes with a Bach Christmas concert.
Cost of the tour is $2,490 per person, based on double occupancy, which includes a professional tour manager, deluxe motor coach, baggage handling, first-class hotels, breakfast daily, two special dinners, entrance and sightseeing fees, and the Bach concert. Air travel is not included.
For more information, call LutherTours at 866-777-1514, visit www.luthertours.com or send an email to info@luthertours.com.
Posted June 7, 2011