Mark D. Hofman of St. Louis will begin serving Oct. 31 as the Synod's executive director of fund development.
Hofman currently serves as director, special projects, and senior gift officer for Concordia Seminary,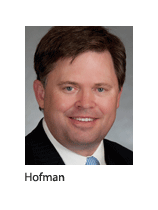 St. Louis — a position he has held since 2008. He has been with the seminary since 1995 in a variety of development positions. He also serves as secretary of the board of directors for the Association of Lutheran Development Executives.
In his new position, Hofman will be responsible for all aspects of LCMS fund development, including overseeing the areas of major gifts, direct-response, and campaigns and special programs. He will report to the LCMS chief mission officer.
"We look forward to having Mark on the team and we are confident he will be able to encourage and lead staff to reach our fund-development goals," said Barbara A. Below, assistant to the LCMS president. "Please join me in welcoming Mark … and in praying God's blessings on Mark's leadership of the newly consolidated fund-development department of the LCMS."
Hofman, a 1987 graduate of Concordia College (now Concordia University Nebraska), Seward, Neb., received his MBA in 2010 from Fontbonne University, St. Louis.
Previous positions include teaching grade school in St. Louis and high school in New Orleans, and serving in the Admissions office of Concordia, Seward.
He and his wife, Rachel, have a 2-year-old son, Matthew, and are members of Ascension Lutheran Church in South St. Louis.
Hofman said he looks forward to serving the Synod at-large in his new position.
"My fervent prayer is that our work with the people of the LCMS will bring glory and honor to God and to Him alone," he told Reporter. "My sincere hope is that our team's work will result in gratifying partnerships between Synod and those who want to financially support national and international efforts to share the love of our Savior, Jesus Christ."
Posted Oct. 6, 2011/Updated Oct. 10, 2011