The Rev. Greg Seltz, speaker of "The Lutheran Hour," joined members of several LCMS congregations in southern California aboard the Lutheran Hour Ministries (LHM) float in the 123rd Tournament of Roses Parade on Monday, Jan. 2, in Pasadena, Calif. The parade traditionally is held on Jan. 1, but because that fell on a Sunday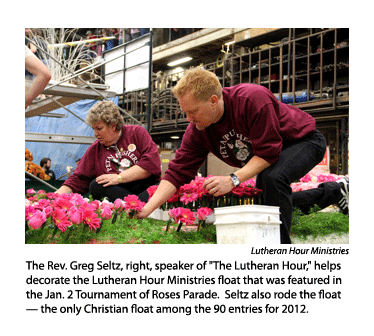 in 2012, the event was held Monday.
The LHM float is a 62-year tradition in the annual New Year's parade and is the only Christian float among the 90 entries for 2012.
The float is sponsored each year by the Southern California District of the International Lutheran Laymen's League, an LCMS auxiliary. It is designed "to provide a Gospel witness to viewers everywhere — from the parade route along Pasadena's Colorado Boulevard to televisions worldwide," according to LHM. The parade is watched live on television by an estimated 40 million Americans and by millions more people in some 150 countries.
The theme of the Rose Parade was "Just Imagine." The LHM float depicted "God's Promise for All," based on John 3:36: "Whoever believes in [Jesus] will have eternal life." The LHM entry was among several floats that were decorated by the Petal Pushers — a 4,000-plus-member group of volunteers of all ages — and it included a likeness of Jesus, "the sole path to heaven"; the "stream of life, where hope springs eternal"; doves, "symbolizing a peace which will only be complete in heaven"; and butterflies, "which remind us of the new life which is ours in Jesus Christ," according to LHM.
To learn more about Lutheran Hour Ministries, go to www.lhm.org or call (800) 944-3450.
For more information about the LHM float and the Petal Pushers, visit www.petalpushers.org.
Posted Dec. 28, 2011/Updated Dec. 29, 2011/Updated Jan. 4, 2012