LCMS President Emeritus Dr. Gerald B. Kieschnick began serving March 1 as presidential ambassador for mission advancement at Concordia University Texas, Austin.
In the newly created position, Kieschnick will "nurture and expand" existing relationships with congregations, organizations, foundations and individuals — and foster new relationship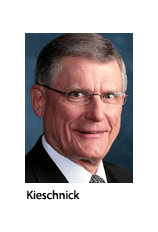 s — to support Concordia in its mission of developing Christian leaders, according to the university.
"The Lord has given me gifts and experiences to use in the cause for Christ," Kieschnick said. "Coming to Concordia provides opportunity to think creatively and act strategically, influencing younger generations with the Gospel of Christ."
"We are delighted to welcome Dr. Kieschnick into the Concordia family," said President Dr. Tom Cedel. "Jerry brings a new level of energy and expertise to the university; he also brings a valuable national — and global — perspective on our mission. He is a gifted leader who bridges denominational boundaries."
Kieschnick served as the Missouri Synod's 12th president, from 2001 to 2010. Prior to that, he was president of the LCMS Texas District for 10 years.
"Concordia is a great place for Jerry to use his gifts as a leader. He has a strong doctrinal understanding of the Gospel and a perspective that allows him to listen to and engage people," said Texas District President Rev. Ken Hennings. "He knows what's going on across various religious communities and brings experience and credibility to Concordia's mission."
Kieschnick and his wife, Terry, live in Georgetown, an Austin suburb. Their two children and two grandchildren live in Central Texas.
For more information about Concordia University Texas, visit its website at www.concordia.edu.
Posted March 2, 2011