The Rev. Dr. Steven L. Dreher of Salida, Colo., a missionary pilot with the Lutheran Association of Missionaries and Pilots (LAMP) in Edmonton, Alberta, Canada, was killed when his 337 Cessna airplane crashed shortly after takeoff Nov. 10 in A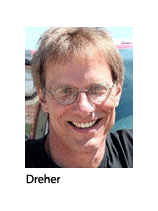 lamosa, Colo. LAMP is an international Lutheran mission organization serving the people in remote areas of Canada.

A gathering for Dreher's family and friends is planned for 2 to 4 p.m. Nov. 26 at the Salida Steam Plant, 220 W. Sackett Ave., Salida. A private memorial service for his family will be held at a later date.

Dreher, 58, served LAMP from 1989 to 1999, and from 2008 until his death, and "touched many individuals and communities accessible only by air in northwestern Ontario and eastern Manitoba," according to LAMP.

He shared his ministry through photos, devotions and personal thoughts on his blog at www.lightaboutmypath.blogspot.com.

LAMP Executive Director Ron Ludke, who said he had known Dreher since the 1990s, called him "a dear friend as well as a colleague in ministry" who "worked tirelessly to serve the people in the far north and made many close and personal relationships with them." Those Native people, Ludke said, are now "deeply grieving" Dreher's death.

"Steve will be sorely missed," he added. "No one can ever replace him in our organization. He was just so gifted in so many ways."

Dreher was a 1975 graduate of the University of Wisconsin, Stevens Point, and a 1981 graduate of Concordia Theological Seminary, Fort Wayne, Ind. He received his Doctor of Ministry degree in 1990 from Fuller Theological Seminary in Pasadena, Calif.

He served as pastor of Zion Lutheran Church in Brighton, Colo. (1981-89) and First Lutheran Church in Salida (1999-2008).

Survivors include his wife, Sarah Melchert Dreher, and their daughter, Katie, both of Salida; a sister, Chris (Dr. R. Mark) Owings of Bellingham, Wash.; and a brother, Fred (Elizabeth) Dreher of Muskego, Wis.

Memorials may be made to LAMP at P.O. Box 480167, New Haven, MI 48048.
Posted Nov. 16, 2011