By March 18, donors had given more than $250,000 for The Lutheran Church–Missouri Synod and its partners in Japan to aid those affected by the 9.0-magnitude earthquake and tsunami that struck there March 11.
Rev. John Fale, interim director of LCMS World Relief and Human Care (WR-HC), the Synod mercy arm that is receiving those donations, said, "Typically following a disaster, our partners use such funds for emergency needs such as food,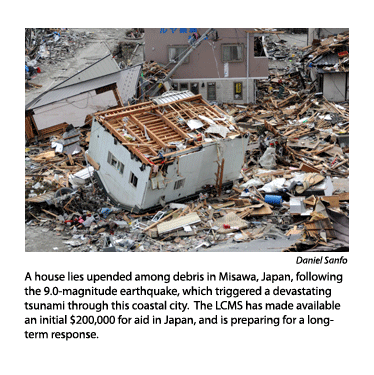 drinkable water, safe shelter and medical care. Over time," he added, "those needs will change as the response transitions to long-term recovery and rebuilding."
Fale indicated that the LCMS is standing by and will remain in contact with Lutherans in Japan to deploy Synod disaster-response personnel at the appropriate time, as well as preparing for a "long-haul" response.
"We're closely monitoring the situation and will be on the ground when our partners are ready and it's prudent to go," Fale said. "But right now, we're hearing from our partners on the ground that now is not the time to come."
Synod President Rev. Matthew C. Harrison announced March 14 that the LCMS was making available an initial $200,000 for two Lutheran church bodies to use as they decide for response to the disaster in Japan. They are the Japan Lutheran Church (an official partner church with the LCMS) and the West Japan Evangelical Lutheran Church.
"We are so thankful to each and every person who has given so generously and so quickly to help our brothers and sisters in Japan," said Harrison. "We encourage not only … continued financial support but also … prayers as we strive to bring the help and hope of Christ to people who are hurting."
Although donations to WR-HC for the most part come from individuals, Lutheran schools and other groups report holding fundraisers such as bake sales to help the Synod's Japan-relief effort.
On March 17, LCMS World Mission moved career missionary Dr. Jonathan Blanke and his family, along with three "Globally Engaged in Outreach" (GEO) missionaries out of the Tokyo area as a precautionary measure. That was primarily due to uncertainties about the safety of Japan's damaged nuclear reactors, according to Rev. John Mehl, LCMS World Mission's regional director for Asia.
GEO missionaries assist career missionaries and partner churches for up to two years.
LCMS World Mission plans to re-evaluate the situation of the relocated missionaries on Monday, March 21.
Reporter Online has carried numerous stories about these and other related developments in the week since the earthquake and tsunami. The Synod — mainly through LCMS World Mission and LCMS World Relief and Human Care — is offering an array of resources for all ages to aid awareness and response in the wake of the disaster in Japan.
To contribute toward the Synod's response to the Japan earthquake and tsunami:
mail checks (noting "Japan Disaster Relief" in the memo line) to LCMS World Relief and Human Care, P.O. Box 66861, St. Louis, MO 63166-6861.
call toll-free 888-930-4438.
visit online at Disaster Relief Fund for Japan.
For more information and resources, visit www.lcms.org/help.
Posted March 19, 2011