Four days before the Pittsburgh Pirates selected Gerrit Cole as the first pick in the Major League Baseball (MLB) draft, Orange Lutheran High School's former star pitcher was watching his sister graduate and catching up with his former principal in California.
"Here's this kid who's going to be Major League Baseball's top draft pick, and he's hanging out and asking about his o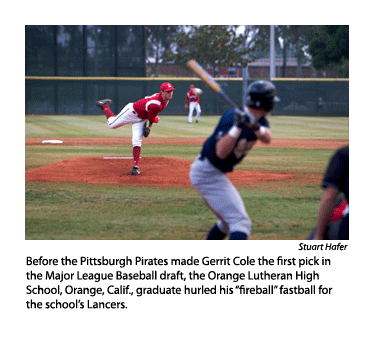 ld teachers," said Gregg Pinick, now Orange Lutheran's executive director, who chatted with Cole at the June 2 graduation.
By June 6, Cole, 20, a 2008 Orange Lutheran High graduate and member of St. John's Lutheran Church, Orange, was making plans to hurl what sportswriters call his "fireball" fastball for the Pirates.
While at Orange Lutheran, Cole, a right-hander, was named the fourth-best high school player in the nation by Baseball America and captured the 2008 All-USA High School first-team honors from USA Today. Although the New York Yankees picked him in the first round of the 2008 MLB draft, Cole followed through with his scholarship to the University of California, Los Angeles (UCLA), and pitched his way to No. 2 on the Bruins' career strikeouts list.
Sharon and Mark Cole, of Santa Ana, enrolled their son and his younger sister, Erin, at St. John's Elementary School when Gerirt was in fifth grade. His years at Orange Lutheran High School, Sharon says, "really supported, encouraged and developed his leadership skills and his determination for not giving up."
Off the baseball field, Pinick says Cole volunteered at the high school's sports camps and enjoyed working with kids from the community. When the two spoke at the graduation, Pinick said Cole "talked about how thankful he was for all that had happened to him at Orange Lutheran and at UCLA. He's a very solid young man who knows where his talent comes from."
Posted June 23, 2011