By Roland Lovstad
Principal gift officers representing LCMS ministries and Lutheran World Relief (LWR) met Feb. 11 to coordinate their activities for building support of the Lutheran Malaria Initiative (LMI), a major effort to end malaria deaths on the African continent.

The gift officers for LCMS World Relief and Human Care (WR-HC) and LCMS World Mission met with their LWR counterparts prior to the annual educational conference of the Association of L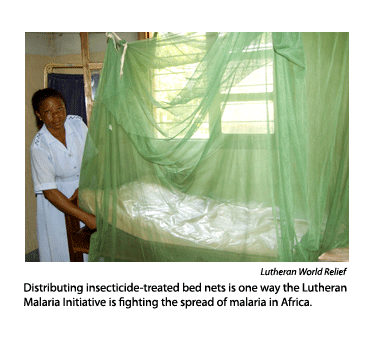 utheran Development Executives, Feb. 12-15 in Portland, Ore. The first such meeting of LCMS and LWR gift officers was last November in Nashville before the annual fall leadership conference sponsored by the Lutheran Church Extension Fund.
LMI is a partnership of The Lutheran Church–Missouri Synod and Lutheran World Relief and is made possible with support from the United Nations (UN) Foundation. With the broad objective to prevent and eliminate malaria deaths in Africa by 2015, LMI includes a goal to raise $45 million for education, advocacy and prevention. The 2010 LCMS convention voted to encourage agencies, congregations, schools, universities and seminaries to join the battle against the disease.

"The goal is lofty and the timeline is very narrow," said Christina Zitka, the Synod's LMI campaign director, who facilitated the Nashville gathering and was instrumental in securing the grant for the campaign. While the initiative will officially launch later this year, Zitka said, "we already are starting to bring some congregations, schools and individual donors on board and are filling our toolboxes with resources and materials."

Hans Springer, WR-HC associate executive director, fund development, described the first team meeting as a "watershed." In the process of becoming acquainted with the LMI purpose and materials, Springer said, "it was probably the first time the principal gifts people were in the same room to talk about strategies for specific projects."
Jim Yagow, senior development officer for LMI with LCMS World Mission, described the meetings as "critical in importance." They are, he said, "a key step in raising awareness and engaging our church body. It's all about equipping our team with information and materials that will help them resource our people in generating support for LMI."
Historically, WR-HC and World Mission have each worked with LCMS members who have supported their specific ministries.
"Knowing that LMI likely will overlap donor interests, we are excited to be a part of a unified, cooperative effort that will rally our church body around our brothers and sisters in Africa," Zitka said.
Yagow added, "We're a team, working together to save lives and souls in Africa. We need to take care that we function as a team, avoiding overlap and duplication of efforts."
Since the UN Foundation is providing a grant through LWR to underwrite the administrative expenses of the LMI campaign, 100 percent of every gift will go toward malaria prevention and treatment programs in Africa, according to Yagow. The UN Foundation will receive quarterly fundraising progress reports during the three-year campaign.
"We want to be respectful of our supporters, their interests and their confidential information," Zitka said. "We want to be the best stewards that we can be and also engage the partnership to the best extent in order to accomplish the goals of the initiative."
Worldwide, malaria annually kills nearly 1 million people — primarily women and children. When family members must care for children sick with malaria — or are sick themselves — they are unable to work, which over time contributes to an ongoing cycle of poverty.
"It almost takes my breath away to be able to say that we have been invited to the table by very respected organizations like the United Nations Foundation and LWR, because they know we have very close connections through faith-based Lutheran communities," said Rev. John Fale, WR-HC interim executive director. He described the initiative as an opportunity to focus on one disease, with one major goal and many partners.
"It is not only an opportunity to concentrate resources, but to do it the way the LCMS does it best — we connect the church's work of mercy with the church's work of proclamation and the church's life together."
LMI will work in phases, focusing on about a third of the LCMS districts per year during the next three years. Materials and approaches have been tested in the Southeastern District and with some LCMS congregations and schools around the country.
Roland Lovstad is a freelance writer and a member of Immanuel Lutheran Church, Perryville, Mo.
Posted Feb. 9, 2011
Updated Feb. 16, 2011/Updated Feb. 18, 2011/Updated Feb. 23, 2011