Major General Luke Reiner, a member of Our Savior Lutheran Church, Cheyenne, Wyo., was promoted April 1 to adjutant general of the Wyoming Air and Army National Guard. He succeeds Major General Ed Wright, who served as th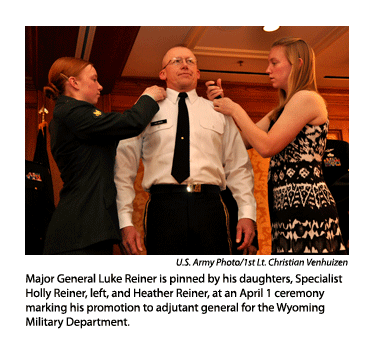 e state's senior military leader for the past eight years.
Reiner is the son of Ken Reiner, a longtime LCMS missionary to Nigeria and former staff member and current volunteer with LCMS World Mission.
Luke Reiner, who grew up in Nigeria during his father's service there and is a graduate of Concordia University Nebraska, Seward, Neb., began his military career in 1982 when he enlisted in the Nebraska Army National Guard. He transferred to the Wyoming Guard in 1986 — after completing ROTC at the University of Nebraska, where he was commissioned as a second lieutenant — and served in various field-artillery positions. Most recently, Reiner served as the joint chief of staff for the Wyoming Military Department.
In his new position, he will command the 3,100 airmen and soldiers in the state's guard, many of whom, along with Reiner, have been deployed to Iraq and Afghanistan in recent years. The adjutant general also oversees the Wyoming STARBASE Academy, the Wyoming Youth ChalleNGe Program, the Wyoming Wing of the Civil Air Patrol, and the Wyoming Veterans Commission.
Reiner began April 1 with a morning service of worship and prayer led by Our Savior Pastor Rev. Ryan Mills and Chaplain (Col.) John Rasmussen, U.S. Army Reserve (retired).
Mills said Reiner "is a man of God and faithful in worship at Our Savior, along with his wife, Devonna, and daughters, Holly and Heather. For a number of years, he has served Our Savior Lutheran Church as an elder. This is a man who serves both God and country."
Posted April 13, 2011