Gerald K. Freeny, president and elder at First Lutheran Church, Pasadena, Calif., has been elected to the executive committee of the Tournament of Roses Association and will serve as the tournament's president in 2019. In that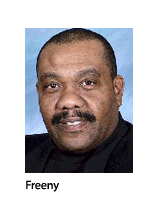 position, he will provide leadership for the 130th Rose Parade and 105th Rose Bowl Game on Jan. 1, 2019.
Freeny, who has volunteered with the association since 1988, most recently served as chairman of parade operations and signaled the start of this year's Tournament of Roses Parade down Colorado Boulevard in Pasadena. He also has chaired the tournament's grandstands, food service, equestrian, services and properties, and formation area committees. He was appointed a tournament chairman in 2001 and a tournament director in 2004.
He will be the first African-American president of the tournament and the first Lutheran president of the tournament, according to his pastor, Rev. Chris Schaar.
"We can't wait to see what theme Gerald selects and what Grand Marshall he invites as those are both duties of the president for the year of his parade," Schaar told Reporter. "While I know they probably can't be overly religious in theme, I bet there will be strong undertones to his selections, which will be great to see."
In addition to his 23 years of service in the Tournament of Roses, Freeny is a current member and past polemarch (president) of the Pasadena Alumni Kappa Alpha Psi Fraternity. His community activities include service to the Pasadena Police Foundation Board, the Pasadena Police Citizens Academy, the Pasadena YMCA Board, the Urban League Board of Governors, the United Way Fundraising Committee, and the Pasadena unit of the National Association for the Advancement of Colored People.
Freeny received his B.S. in business administration and finance from California State University, Los Angeles, and is employed by the state of California. He resides in the San Gabriel Valley with his wife and daughter.
Posted Feb. 9, 2011