Rev. Robert Bergt, whose work and reputation as a musician are known around the world, died in a St. Louis hospital July 26 at the age of 81. The cause of death was heart failure and its resulting complications.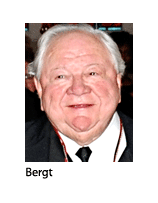 A private funeral service and committal are being planned for Concordia, Mo. A memorial concert is scheduled for Sept. 25 at the Chapel of St. Timothy and St. Titus at Concordia Seminary, St. Louis.
Rev. Bergt was music director and conductor of the American Kantorei and artist-in-residence at Concordia Seminary. He is survived by his wife of 57 years, Joan (nee Roesener), herself an accomplished musician; four children: Jonathan of St. Louis; Philip (Iris), South Bend, Ind.; Marsha (Peter) Sylvain, Frankfurt, Germany; and Joel (Mieko), St. Louis; and six grandchildren.
A seminary news release noted that Rev. Bergt combined his passion for music with his deep theological understanding. He founded the American Kantorei in 1968, the first group of its kind in the United States. The Kantorei is a highly skilled choral and instrumental group that has performed in a variety of settings and locations. Since 1993, the American Kantorei, under the direction of Rev. Bergt, has performed concerts in the "Bach at the Sem" series at the seminary chapel.
Rev. Bergt, recognized with numerous awards through the years, was a 1952 graduate of Concordia Seminary. He served congregations in Illinois and Missouri and was music director, conductor and instructor at Concordia Seminary, Southern Illinois University Carbondale, Valparaiso University and the Musashino Academia Musicae in Tokyo, Japan, during his lengthy career. As early as 1949, he was chosen to be concertmaster and assistant conductor of the St. Louis Philharmonic.
Rev. Bergt once wrote, "I have learned from teaching and praying the church's liturgy that doxology and Gospel proclamation are the purpose of my life."
Dr. Dale A. Meyer, president of Concordia Seminary, called Rev. Bergt a "singularly talented and devoted person who inspired so many with his abilities and with his strong Christian faith. He devoted his career to the musical glorification of God."
The family has asked that memorial gifts be given to Concordia Seminary to support Bach at the Sem.
Posted July 27, 2011