Rev. Louis Grother of Kalamazoo, Mich., says he's humbled to win the Irving S. Gilmore Lifetime Achievement Award in this year's STAR (Sharing Time and Resources) Awards p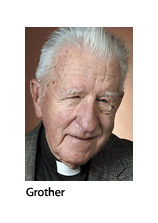 resented by the Kalamazoo Gazette and the Volunteer Center of Greater Kalamazoo.
As a pastor, the 96-year-old said he doesn't do good deeds for glory or recognition, according to mlive.com, a news blog about "Everything Michigan" that's affiliated with the Kalamazoo Gazette.
"It was very kind of the people who had a part in this honor to think of me," Grother told reporter Jef Rietsma. "But I'd just as soon prefer to go along in life without the hurrahs and fanfare around me. I just did what was right, by going through the doors the Lord opened for me and never turned my back."
Grother, former pastor of Zion Lutheran Church in Kalamazoo, was honored for his work with the homeless, the poor and the mentally ill and his 62 years of service to the Kalamazoo Psychiatric Hospital, where he routinely visited "people who many in society have given up on."
Grother said he considers it his "duty to take the time to listen, to offer prayers and to be a part of the lives of people who don't have anybody else."
His age hasn't slowed him down. He still conducts a chapel service — followed by social time with the patients — every Tuesday at the hospital.
"It's probably fair to say that I get more out of spending time with them than they do with me," Grother said in the online story. He added that he gets "a lot of unsolicited care and kindness in return for what I do, and that's what brings me joy."
To read the entire story, click here.
Posted April 20, 2011