This year's Lutheran Services in America (LSA) Annual Conference will offer "something for everyone in Lutheran social ministry," the registration brochure for the May 3-6 conference in Milwaukee states.
Added to the array of activities for conference registrants this year are new concentration areas for board members and volunteer coordinators. And, starting May 1 are the first of four network pre-conferences offering specialized resources, content and relationship building for those in human resources, communications/marketing/public relations, chaplaincy and spiritual care, and disability services.
To download the conference brochure, which provides details for all those offerings, and to register online, go to www.lutheranservices.org/annual_conference.

"A Picture of Possibilities" is the theme for the annual conference that will provide more than 30 education sessions and other group events and activities. That theme is based on Is. 43:19 – "I am about to do a new thing: now it springs forth, do you not perceive it? I will make a way in the wilderness and rivers in the desert."
All sessions for the conference and pre-conferences are set for the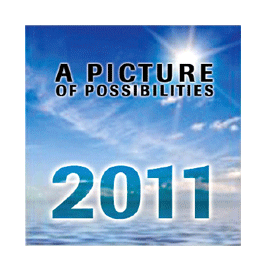 Hyatt Regency Milwaukee, which has discounted lodging rates for reservations made before April 11 — for those already registered for the annual conference.
Scheduled as keynote speakers for the annual conference are:
Allison Fine, senior fellow with Demos: A Network of Idea and Action, in Irvington, N.Y., who will address "the networked nonprofit" at the conference's opening session; and
Dr. Dean W. Nadasdy, senior pastor of Woodbury Lutheran Church, Woodbury, Minn., who will help close the program with a spiritual reflection on the conference theme.
Schedules and themes for the pre-conferences are as follows:
LSA-Disability Network, May 1-3 — "One God, One Call: One People Together."
Chaplains Network, May 3-4 — "Hope in a Jar: Proclaiming Possibility in Difficult and Discouraging Times."
Council for Human Resource Management Network, May 3-4 — "Mission Possible."
LSA Communicators Network, May 3-4 — "Corporate Culture and Communications."
A mini-conference for volunteer coordinators, slated for the morning of May 4, is themed "The Heart of Volunteerism — Endless Possibilities."
"The LSA Annual Conference brings together a unique collection of people to network, learn and share insights into how to make Lutheran social ministry more responsive to our neighbors," said Jill Schumann, president and CEO of LSA. "This year especially, we look forward to welcoming a broader representation of board members and volunteers as we paint a picture of possibilities together."
Registration for the annual conference is $449 for individuals, for those registering by Feb. 8; $469, by March 1; and $499 after March 1. A rate of $449 per person applies for five or more people regis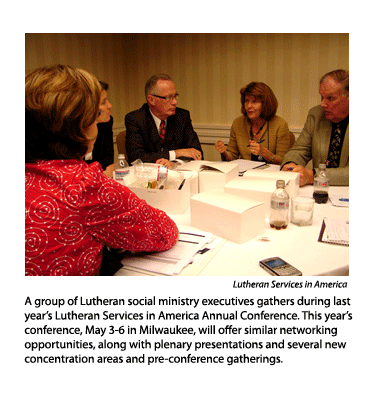 tering together from the same organization. The board-member rate is $449. Daily rates also are available for the annual conference and pre-conferences.
Registration is free for the Disability Network preconference and the Board Academy (with conference registration) on May 4-5. See the conference brochure for other preconference and mini-conference fees.
Registration fees cover sessions and meals.
The conference brochure also has information for potential exhibitors and sponsors of conference expenses, as well as suggestions for tours and sightseeing, including a free tour of Bethesda Lutheran Communities' Watertown, Wis., campus.
Also available to conference registrants are 10.5 continuing education credits toward nursing home administrators or social worker licenses.
Registrations may be submitted online by April 12; by fax with credit card information to 410-230-2710, also by April 12; or by U.S. mail (with credit card information or by check) by April 5 to Lutheran Services in America, 700 Light St., Baltimore, MD 21230.
Lutheran Services in America is an alliance formed by The Lutheran Church–Missouri Synod, the Evangelical Lutheran Church in America and more than 300 of their health and human service organizations. Those organizations together have an impact on "the lives of more than six million people – one in 50 Americans each year – and have aggregated annual incomes over $16.6 billion," says an "about LSA" statement on its website, www.lutheranservices.org.
Posted Jan. 12, 2011