By Kim Plummer Krull
Bethany Janssen wasn't born when the U.S. Supreme Court legalized abortion with its Roe v. Wade decision in 1973. But 38 years later, the Concordia University Wisconsin student voiced her opinion of that controversial decision, joining a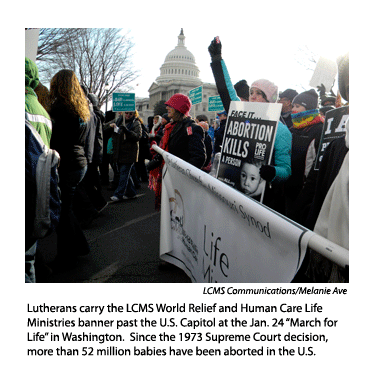 reported 200,000-plus pro-life supporters at the "March for Life," Jan. 24 in Washington, D.C.
"This is something I'm extremely passionate about," said Janssen, 18, who missed her first day of second semester classes to travel from Mequon to her first March for Life. "Whether it's a brand-new life or not, life is not something to just throw away."
Janssen was one of many Lutherans who took time off from school, jobs and regular routines to flock to the nation's capital to proclaim the sanctity of human life at the 38th annual march.
"We're seeing all these people from different places, different backgrounds, with their own different stories, but we know that we're all here for one purpose — to overturn Roe v. Wade," said a breathless Janssen, who marched with the university's Students for Life chapter. "It brings tears to my eyes."
Veteran LCMS marchers also brimmed with purpose on the sunny but cold march day. "It's below freezing, but with the sunshine, enthusiasm and the crowds, that's helping us stay warm and motivated," said Renee Gibbs, a member of Holy Cross Lutheran Church, St. Louis, and board member of the national Lutherans For Life (LFL).
Participating in her 15th March for Life, Gibbs accompanied 20 students from the Teens for Life group she helped found at Lutheran High School of St. Charles County, Mo. Her main motivation for marching, she said, is to he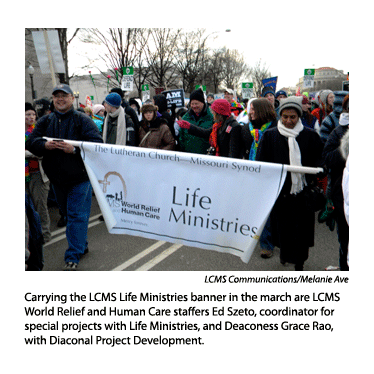 lp students grow in their own pro-life passion.
Maggie Karner, Life and Health Ministries director with LCMS World Relief and Human Care (WR-HC), called uniting with fellow pro-life supporters from across the country "a unique blessing."
"It's a blessing that God has allowed us to be involved in the government process and openly state how we feel about certain issues," said Karner, as she prepared to help carry the LCMS Life Ministries banner through the downtown streets. "We have a unique blessing, compared to much of the rest of the world, and we want to take advantage of it and show our support for issues like this that are so important."
Karner marched with fellow WR-HC staffers Ed Szeto, coordinator for special projects with Life Ministries, and Deaconess Grace Rao, with Diaconal Project Development. LCMS Sanctity of Human Life Committee members also participated, including LFL Executive Director Dr. James Lamb and Rev. John Pless, assistant professor of pastoral ministry and missions at Concordia Theological Seminary, Fort Wayne.
WR-HC provided same-day, online coverage of the march, with interviews and onsite commentary. (Click here to visit WR-HC's "March for Life" newsroom.)
"It's marvelous we have a large and growing representation from the LCMS in the March for Life," said Synod President Rev. Matthew C. Harrison. "The LCMS has a huge footprint of mercy and care for the neediest, the vulnerable and the aged. As citizens of this land, we have the right to speak for justice on this issue. As Christians, we have the responsibility to do so."

Many Lutheran marchers started the day at the traditional pre-march service at Immanuel Lutheran Church, in Alexandria, Va., hosted by the LFL chapter of northern Virginia. Some 175 worshippers took part in the divine service.
Lamb delivered the sermon, "Hands that Knit, Arms that Hold," based on Psalm 139: 13-14 and Mark 10:13-16.
"All human life has value because it is created by the hands of God," Lamb said. "All human life has value because of the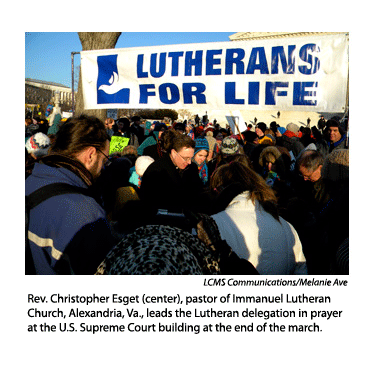 outstretched arms of Jesus on the cross."
Focusing on the sanctity of life as part of a Lutheran worship service is important, Lamb said, "because we have a grounding on these issues that not everyone does." Our message, Lamb said, "doesn't flow from a political agenda but from the Scriptures and what God says about the value of human life."
After speeches at a noon rally at the National Mall, LCMS marchers trekked along Constitution Avenue to the U.S. Supreme Court building.
Rev. Douglas Spittel, pastor of First Trinity Lutheran Church, Pittsburgh, said he joined his first March for Life "to put some pressure on leadership in Washington, D.C., to let them know that people in the United States have a right to life" and to be part of a Christian witness.
WR-HC's Ed Szeto participated in his 10th March for Life. Fighting for the sanctity of human life can be "a lonely battle," he said. "There is no better way to be encouraged or edified than to participate in the March for Life with thousands of pro-life friends from all church denominations."
Taylor Salzberg, 17, a student at Lutheran High School of St. Charles County, said she marched with the wish "that my children won't have to do this – that we can stop what's going on and that they won't need to come to Washington, D.C., with this burden to bear."
Looking beyond the march, Karner said she hopes the sanctity of human life message continues to resonate in Washington and in congregations and communities throughout the country. "We all must work together to make sure this issue is not lost in the chaos of the day in the civic realm," she said.
With that goal in mind, LCMS Sanctity of Human Life Committee members met Jan. 25 to begin work on a national conference to encourage and equip Lutherans to share the pro-life message. Delegates at the 2010 LCMS convention called for a conference of this nature by resolution, Karner said.
As she prepared to head toward the U.S. Supreme Court building, student Bethany Janssen said she wants her first March for Life to be her last. "We'll come back next year, but we hope we don't have to," she said.
For more information about LCMS Life Ministries, visit www.lcms.org/life. To learn more about Lutherans For Life, visit www.lutheransforlife.org.
To make a gift that upholds the sanctity of human life through the work of LCMS Life Ministries:
mail checks (with "Life Ministries" noted in the check memo line) to LCMS World Relief and Human Care, P.O. Box 66861, St. Louis, MO 63166-6861.
call toll-free 888-930-4438 to make a credit card gift.
give online at http://givenowlcms.org.
Kim Plummer Krull is a freelance writer and member of St. Paul's Lutheran Church, Des Peres, Mo.
Posted Jan. 26, 2011