The Lutheran Women's Missionary League announced Oct. 26 that it has received $100 million in mites since the organization's founding in 1942. The milestone includes funds from the 40 LWML districts nationwide as well as those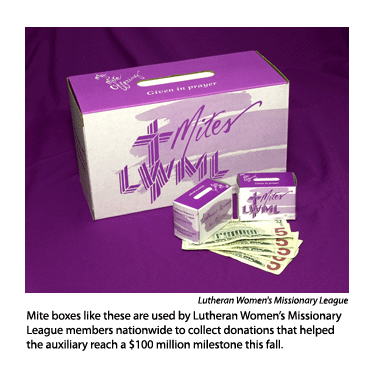 received on the national level at the LWML's office in St. Louis.
To date, contributions to the LCMS women's auxiliary have been used to support Christian outreach in 42 countries on five continents.
"Today we look forward to the mission work of the Lord set at the 2011 LWML Convention with a mission goal for the 2011-2013 biennium of $1.825 million to support 19 grants," said LWML President Kay Kreklau. "While the amount of funds raised has increased over the years, the mission today is the same – helping to reach out to share the joyful news of Christ around the world."
Kreklau said today's LWML members, also known as Lutheran Women in Mission, "share the same mission consciousness, mission education, mission inspiration and mission service, as they join the early leaders to joyfully serve the Lord."
The LWML offers a number of resources that may be downloaded from www.lwml.org/missions:
a list of mission grants for the current biennium.
Mission Power Posters for each of the biennium's 19 grants.
monthly Mission Grant Devotions.
a Prayer Guide and Story for each month, also available in large print.
Mite Marathon Flyers that offer ideas for supporting the LWML's mission goal.
The LWML receives donations:
online at www.lwml.org,
through gift-planning services, its endowment fund and employer matching funds, and
by mail, to: LWML, P.O. Box 411993, St. Louis, MO 63141-1993.
For more information, contact the Lutheran Women's Missionary League at 800-252-LWML (5965) or lwml@lwml.org.
Posted Nov. 16, 2011