Prolific author and frequent speaker Dr. Paul Maier talked about his new book, The Constantine Codex, in a June 22 interview on KFUO Radio, the LCMS-owned station in St. Louis.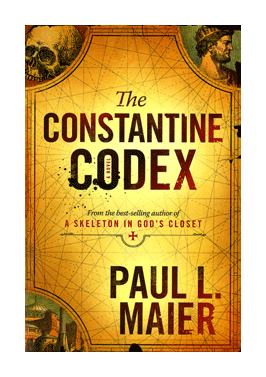 Maier, who retired this year as professor of Ancient History at Western Michigan University, Kalamazoo, where he taught for 50 years, serves as the Synod's third vice-president. His new book of fiction has been reviewed favorably by the Los Angeles Times, Houston Chronicle, Milwaukee Journal Sentinel, Detroit News and others.
"Even though it's fiction, I try to get the background as accurately as humanly possible because I believe that a book should not only entertain but also educate," he tells KFUO Radio host Paul Clayton in the interview.
Like its two predecessors, A Skeleton in God's Closet and More Than a Skeleton, Maier's new book also features fictional Harvard Professor Jonathan Weber and archeologist Shannon, now his wife. While in Greece, the two uncover an ancient biblical manuscript — or codex — containing the lost ending of Mark and a potential 67th book of Scripture, which, if proven authentic, could forever change the course of church history and the way the world views the Bible.
Maier says he wrote The Constantine Codex with two goals:
"to expose Christians to the beliefs and practices of Islam" so they better understand the religion he calls "the greatest challenge of the Christian Church in the last 14 centuries," and
"to inform the reader about how our Bible is put together, how we get the manuscript."
Biblical manuscripts "are still being discovered — in whole or in part — from the early centuries," Maier says, and he weaves that fact as a subplot in the 345-page book.
To hear the KFUO interview, click here or visit the KFUO website at http://www.kfuo.org.
For more information about The Constantine Codex ($19.99, ISBN no. 978-1-4143-3773-9), click here.
Posted June 28, 2011