The first of 18 different postcards updating congregations about their role in necessary procedures leading up to and including their 2012 district conventions and the 2013 Synod convention will be arriving in their mail early thi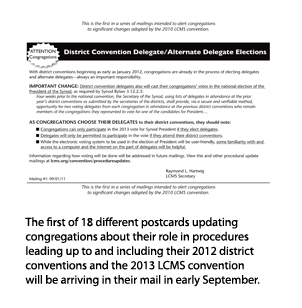 s month.
The postcards from Synod Secretary Rev. Dr. Raymond L. Hartwig are marked "OFFICIAL BUSINESS" on the front and will be sent to congregations via U.S. mail between now and early May 2013. Circuit counselors and other church leaders also will receive the mailings.
"Each postcard will be very timely and convey information essential to how the Synod has decided to conduct its business," Hartwig told Reporter.
"They are meant to be helpful reminders to congregations," he said, "of what they need to do, and when, regarding certain procedures — some of which were changed as a result of structure and governance resolutions adopted by the 2010 LCMS convention."
The first postcard has to do with congregations electing their voting and alternate delegates for district conventions.
"With district conventions beginning as early as January 2012, congregations are already in the process of electing [these delegates]," Hartwig notes on the postcard.
He points out an "important change" approved by the 2010 Synod convention — that "district convention delegates also will cast their congregations' votes in the national election of the president of the Synod."
Also on the initial postcard, Hartwig asks congregations to note that they "can only participate in the 2013 vote for Synod president if they elect delegates," and that those "delegates will only be permitted to participate in the vote if they attend their district conventions."
"Information regarding how voting will be done will be addressed in future mailings," Hartwig indicates on the postcard.
He said that the next three postcards will address "the increased importance of circuit forum delegate selection and attendance, the new bylaw process for the nominations and selections of circuit counselors, and the new opportunity for congregations and forums to participate in the Synod's goal-setting process."
The information on the 18 postcards also will be available online as they are mailed, at www.lcms.org/convention/procedureupdates.
Posted Aug. 30, 2011