By Joe Isenhower Jr.
ST. LOUIS — At their Feb. 4-5 meeting here, the Synod's Board for International Mission (BIM) and Board for National Mission (BNM) decided that a "theological foundation" preface to their policy manuals will be based on the Synod's new Witness, Mercy, Life Together emphasis.
After completing work on the preface, the two boards will develop the policy manuals for the national Synod.
They also determined that the foundation document will reflect theological documents already being used by LCMS World Mission and LCMS World Relief and Human Care.
Holding their third meeting since they were formed by adoption of Resolution 8-08A at the 2010 Synod convention, the two boards assigned drafting of the theological foundation document to LCMS President Rev. M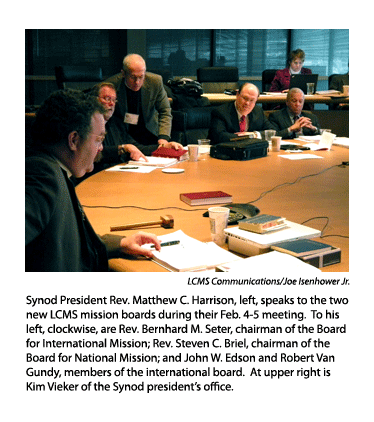 atthew C. Harrison and a subcommittee to be appointed by their chairmen.
Resolution 8-08A authorized reducing the Synod's seven program boards and several staffed commissions to the two new policy boards, each of which has 11 members.
Together, the boards unanimously adopted both actions related to the theological foundation document.
The action concerning its content states that the boards "commit to separate and joint discussions to adopt theological preface(s), goals, and policies which will be consistent with the Synod's mission opportunities presently before us. We will use the Board for Mission Services 2000 'Theological Preface' (Witness) and LCMS World Relief and Human Care's 'Theology for Mercy' (Mercy). We will also give due consideration to the theology of our Life Together, all so that the Synod might experience unity and blessing in its work of mission together."
The boards' action assigning work on the theological-foundation draft calls for discussion of that draft at their next meeting, June 3-4 — after board members fine-tune the draft that will be posted to a dedicated Web portal for their work together between meetings. The action also calls for the foundation document to be reviewed by the LCMS Commission on Theology and Church Relations before the boards finally approve it. The final document will then be "shared with the Synod at-large."
The two mission boards agreed to aim toward developing their initial "ends" policies for the Synod by fall of this year, and to complete an annual review of those policies by fall of each year, in time for annual Synod budget preparation.
As the February meeting got under way, Harrison led a theological study of the Witness, Mercy, Life Together emphasis developed by his office.
"It's more than an emphasis," he said. "It's a way to order our life in the new structure — what the church looks like, according to the New Testament."
Harrison pointed to the graphic elements of the symbol developed to illustrate the new three-fold emphasis.
"Witness is Pentecost-red," he said, mentioning the compatibility of Witness with the Ablaze! initiative the Synod developed in the first decade after 2000. Goals of Ablaze! include LCMS members and partner church members sharing their faith with 100 million unbelievers by the year 2017.
Pointing out that the symbolism for Mercy is set in a purple wine-colored field, Harrison mentioned his brother's battle with cancer, illustrating that all those in the Synod are presented with similar opportunities to show Christian care.
"It helps us with being compassionate," he said.
And concerning Life Together — graphically symbolized against a green background — he pointed out that "together we share Christ. We have fellowship in Christ." He said that through Word and Sacrament ministry, represented by the grapevine and communion chalice, "we are joined together with Christ and with one another in our life together."
Harrison also spoke of the right understanding of confession and witness in the Synod — especially in reference to "one side that emphasizes confession of our historical understanding, and the other that emphasizes the need to witness."
"In the New Testament, witness and confession are synonymous," he said. "A confession that isn't witness is not a faithful confession. A witness that isn't confession is not a faithful witness."
Dr. Albert B. Collver, director of Church Relations for the Synod, drew attention to a flow chart for the Synod's proposed new structure in the boards' docket. He said the term "office" in that chart "should be understood as outcomes or outputs.
When work is done domestically, it's for the office of National Mission. And when it's overseas, it's for the office of International Mission. These offices do not exist as silos, but for output."
"There will be lots of crossover," Collver said, adding that the same staff person or group might one day conduct activity for national mission and the next day for international mission.
He also emphasized that Witness, Mercy and Life Together would be elements of both offices.
Collver said that the proposed structure also would provide "a way to track national and international mission" — which was not the case with the previous Synod structure.
Dr. David Birner, associate executive director, international, for LCMS World Mission, spoke with the two boards about serving on the 13-member "restructuring work group" that presented its recommendations for the Synod-staff restructure to Harrison in early February.
That group conducted its work in three areas: program, finance and communication. Birner and others from the staff of LCMS World Mission and LCMS World Relief and Human Care concentrated on program.
Birner said that at first, those from the two staffs were "apprehensive of each other." But he added that the process of figuring out how to bring together their two functions "gave us an appreciation for each other and for the collaboration needed … to put together a united concept. The door never closed to collaboration."
"One ministry doesn't stand alone," Birner told the boards. "In ministry around the world, we all share," he said.
He emphasized that mission staff members in the new Synod structure "are going to have to be cross-trained for national and international mission work."
Synod Secretary Dr. Raymond Hartwig reviewed with the two boards portions of the 2010 Synod Handbook that address those boards' roles and responsibilities.
Quoting the Bylaws, he said that the basic work of the boards is in "developing and determining policies … to establish boundaries, parameters and principles that guide the respective mission office in determining present and future activities."
"You're not program boards," Hartwig said.
"We've all been programmed to think 'program boards,' " he said in reference to the Synod's former structure. "But you're for policy," he added, including coordination of district policies.
"The national Synod now operates by policy-based management," Hartwig said. "Our Synod has moved to policy-based management as a way of life."
The two boards also met separately for just over an hour Feb. 5.
In that time, the Board for International Mission approved issuing calls to two missionaries and solemn appointments to two others. These were the first calls and appointments from the board — "a significant milestone for us," board Chairman Rev. Bernhard M. Seter told Reporter.
"We learned how massive synodical restructuring is," Seter wrote in an e-mail message to Reporter about the joint February meeting. "President Harrison's emphasis on Witness, Mercy and Life Together is so helpful," he added, "because it views the church's work in a holistic way."
Rev. Steven C. Briel, chairman of the Board for National Mission, termed as "very helpful" Hartwig's discussion with that board about Bylaw 3.8.2.
That Bylaw speaks to the board's "developing and determining policies for the coordination of and in support of district ministries that are directed toward the ministry functions of the national office and district ministries that are directed toward the ministries of congregations and schools."
"Members of the BNM are eager to work closely with the Council of Presidents in developing policies that are helpful in these various critical ministries of the congregations and schools in Synod," Briel said in an e-mail message to Reporter.
Briel added that the joint meeting of the two boards "was very profitable as members continued to work toward developing policies that will enable the offices of national and international mission to serve the needs of congregations in the LCMS."
Posted Feb. 24, 2011