By Kim Plummer Krull
Instead of a scheduled work day at Our Redeemer Lutheran Church in Clinton, Miss., members abruptly shifted gears on Saturday, April 16, and helped families with homes damaged by a powerful tornado, one of string of more than 2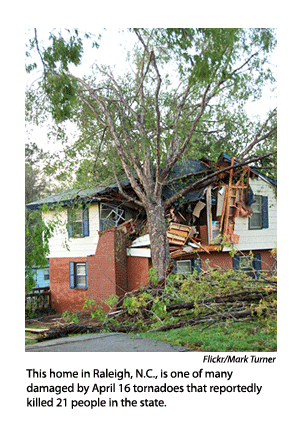 40 such reported storms that killed at least 45 people over a three-day period.
"We were supposed to be working at the church, but after what happened, we decided to move [the work day] over there," said Cindy Namanny, Our Redeemer's director of Christian education, referring to the damaged home of a member family, including a grandmother, her daughter and granddaughter.
The April 15 tornado destroyed the roof and blew out windows at the house, forcing the trio to seek temporary emergency shelter arranged for by the congregation. Our Redeemer volunteers also assisted with cleanup at the homes of two more member families as well as other homes in the community and are looking into needs at a trailer park.
"It's amazing that no one was killed," said Namanny, one of many people contacted by LCMS World Relief and Human Care (WR-HC) after the tornado outbreak that meteorologists say may rank among the largest in history.
The storms began Thursday, April 14, in Oklahoma, tore through the South on Friday, and hit North Carolina and Virginia on Saturday. Authorities say the storms killed 21 people in North Carolina and also claimed lives in Arkansas, Alabama, Virginia, Oklahoma and Mississippi.
"As we head into this Holy Week in full anticipation of the glorious celebration of the Resurrection and the powerful presence of Jesus Christ in our lives, we know that there are those whose lives have been turned upside down by the recent disasters across much of the U.S," Rev. Glenn F. Merritt said in a Palm Sunday (April 17) email to district presidents and disaster response directors. Merritt is director of Disaster Response with WR-HC.
On April 18, Merritt and Rev. Carlos Hernandez, WR-HC director of Districts and Congregations, continued to check on congregations and their communities. "It's still very early and often takes many days for all damage reports to come in," Hernandez said. "But as soon as a disaster happens, we want people to know that LCMS World Relief and Human Care is here, that we care and we stand ready to respond."
Rev. James Walter, pastor of Grace Lutheran Church in Little Rock, Ark., told Hernandez how a tree crashed into a car belonging to a member's daughter. "This happened in the same area where a mother and son were killed by a tree that fell into their house," Hernandez said.
In the Southeastern District, Dr. William Seaman told of damage "almost beyond description" when he drove through North Carolina and South Carolina.
"One [tornado] hit a mile south of us doing major damage and killing three people. Another hit a mile north, twisting a steel power pylon and breaking high tension wires. Several hundred homes were without power," Seaman, a Southeastern District facilitator based in Raleigh, N.C., said in an email shared with WR-HC by Deaconess Sally Hiller, executive director for Congregational Outreach and District Operations and the district's disaster response coordinator.
At Resurrection Lutheran Church, Cary, N.C., Rev. Dave Schleusener reports many members were "miraculously spared."
"We are still getting reports and trying to touch base with [congregation] members. Many were within yards/miles of significant damage, but so far no damage to report to our members, and no injuries or fatalities," he said in another email shared with WR-HC.
At Resurrection Lutheran Church, Newport News, Va., Rev. William H. Hollar said by email that his congregation is "working with the Red Cross and with our members to assist [in nearby] areas."
As WR-HC assesses damages from these latest storms, the ministry also is preparing a grant to assist families who lost homes and possessions in the April 9 twister that devastated Mapleton, Iowa. In the works is an $8,250 emergency grant to Iowa District West to help 11 member families of St. Matthew Lutheran Church.
In addition to the funds from WR-HC, both the district and St. Matthew plan to contribute financial assistance so that each family will receive $1,000 for emergency needs, according to the WR-HC grant agreement.
To learn more about WR-HC Disaster Response, visit www.lcms.org/worldrelief.
To read a story about earlier storms, "Spring storms damage LCMS churches, members' homes," click here.
To contribute to the Synod's tornado disaster response:
Mail checks (noting "Tornado Disaster Relief" in the memo line) to LCMS World Relief and Human Care, P.O. Box 66861, St. Louis, MO 63166-6861.
Call toll-free 888-930-4438.
Make an online donation for LCMS "Tornado Disaster Relief" efforts (click here).
Kim Plummer Krull is a freelance writer and member of St. Paul's Lutheran Church, Des Peres, Mo.
This story was produced by LCMS World Relief and Human Care.
Posted April 20, 2011