Rev. David A. Muench of St. Louis has accepted a call to be director of Ministerial Care for Concordia Plan Services (CPS), a new position he has filled since May 15.
An LCMS clergyman and licensed marriage and family therapist, Muench was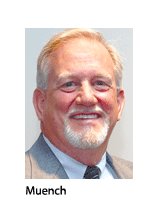 executive director of the former LCMS Commission on Ministerial Growth and Support from 2005 until 2010. He also has served as a pastor, teacher, Christian counselor and youth minister with congregations in Houston, St. Louis and Utica, Neb.
The new position enables CPS to "[enhance] its partnership with LCMS ministries in caring for the workers of the church," according to a CPS news release. It explains that "Muench will serve as a resource to district presidents, staff and/or committees involved in ministerial care and will assist CPS in designing – and making available – resources for church leaders to assist them in their duties to care for workers." He also will maintain contact with vendors such as Cigna Behavioral Health and Liberty Mutual, "educating them on the unique issues facing professional church workers."
"The CPS commitment to our ministerial partnership has been enriched, as we intentionally strengthened efforts in the area of caring for those in ministry," said CPS President and CEO Jim Sanft.
"A passion for ministerial well-being has provided the opportunity for Muench to develop and deliver strategies for nurturing ministers (ordained and commissioned) at congregational, circuit, district and Synod levels," according to the news release.
Muench holds degrees from Concordia University Nebraska, Seward; Concordia Seminary, St. Louis; and the University of Nebraska.
Posted June 23, 2011