By Kim Plummer Krull
In case of turbulence during a flight, passengers who are caregivers are told to put on their oxygen masks first so they can assist others. Similar advice comes from Grace Place Lutheran Wellness Ministries Executive Director Dr. John Ec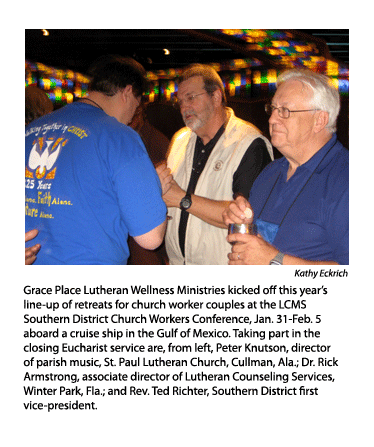 krich as he announces new programs to equip professional church workers and congregational leaders with health and wellness skills and strategies.
"We want our church workers to understand the importance of self care," said Eckrich, founder of the newly renamed LCMS Recognized Service Organization that previously operated as Grace Place Lutheran Retreats. "Turbulence is all around them, and they can't effectively and vibrantly care for the people God has called them to care for unless they first take care of themselves."
The St. Louis-based ministry's name change reflects expanded programs. In addition to "pause points" where church worker couples learn tools to combat ministry stress and grow in God's Word, Grace Place is introducing wellness weekends for congregations and a first-ever missionary retreat for LCMS missionary families, with an emphasis on children.
Some 20 families are scheduled to take part in the missionary retreat, March 27-April 1, in Malindi, in Kenya, East Africa. Missionary couples requested the retreat after taking part in Grace Place retreats in the United States.
"They asked if Grace Place would look at the specific whole health issues that missionaries and their families face," Eckrich said.
While most Grace Place retreats focus on couples, the missionary retreat will include a separate program for missionary children.
Growing up in what Eckrich calls "a third culture," these youngsters face unique challenges. "They become a blend of cultural backgrounds, with the influence of their American parents and also their adopted culture," Eckrich said. "This can be a struggle because they don't always feel like they fit in, in the United States or in their mission field."
The retreat is scheduled when many missionary children will be on spring break from school. The four-day program is offered at no cost to missionary families, Eckrich said, thanks to financial support provided by generous Grace Place donors. While this retreat is for missionaries who have served or are serving in Africa, Eckrich said Grace Place plans to offer retreats for missionaries in other mission fields if funding becomes available.
Another Grace Place first are congregational wellness weekends, offered as an opportunity for leaders and professional church workers to strengthen relationships and learn practical tools to strengthen body, mind and spirit.
About 70 people took part in a pilot congregational retreat hosted by Grace Place in November at St. Lorenz Lutheran Church, Frankenmuth, Mich. Rev. Mark D. Brandt called the weekend "a wonderful opportunity for our staff and lay leadership to gather with one another for a time of learning and sharing."
"As a result of the weekend, we better understand ourselves, one another and what it means that we are in ministry together," Brandt said.
Several churches have scheduled Grace Place congregational retreats this year, with the first on tap March 4-6 at Concordia Lutheran Church in Kirkwood, Mo.
Grace Place kicked off this year's line-up of retreats for church worker couples with another first — a cruise that drew 278 pastors, teachers and members as part of the LCMS Southern District's Church Workers Conference, Jan. 31-Feb. 5.
"Due to the incredible pressures on marriages during the time of navigating reconstruction after the hurricanes [including Hurricane Katrina], the conference committee intentionally wanted a relationship retreat with topics that would strengthen marriages and family relationships," said Rev. Stephen Linck, senior pastor at Grace Lutheran Church, Pensacola, Fla., and a coordinator for the conference held every three years as a cruise.
Eckrich and Rev. Dr. David Ludwig, Grace Place associate director of retreat programs, led educational sessions on physical, emotional, relational and spiritual health, as well as worship services and devotions. The conference included programs for both couples and people who are single both by choice or loss.
Regardless of a retreat locale, Eckrich says the goal of every Grace Place retreat is to promote the health and wellness of "our most valuable human resource, our church professionals."
"Health care can be a controversial topic, but there is strong agreement that disease prevention and an increased focus on diet, exercise and 'whole health' are keys to being good stewards of our health care dollar," Eckrich said. "For those of us who care about sharing the Gospel, the health and well-being of our congregations and our church workers must be a top priority."
Upcoming Grace Place retreats include:
Fourth-year seminary student retreats, for Concordia Seminary, St. Louis, students and wives, Feb. 18-20 in Grafton, Ill.; for Concordia Theological Seminary, Fort Wayne, students and wives, Feb. 25-27 in Fort Wayne.
Single church workers retreat, June 6-10 in Colorado Springs, Colo.
Iowa pastors and educators retreat, June 13-17 in Milford, Iowa.
Indiana pastors and educators retreat, June 20-24 in Plymouth, Ind.
Pastors and educators retreat, June 27-July 1 in Snowmass, Colo.
Pastors and educators retreat, July 11-15 in Trego, Wis.
Pastors and educators retreat, Aug. 1-5 in Mackinac Island, Mich.
Karpenko Institute for Nurturing and Developing Leadership Excellence Directors of Christian Education retreat, July 18-22 in Trego, Wis.
Through the Grace Place online lifelong learning program, participants can continue to reinforce healthy behaviors even after a retreat ends.
To learn more about Grace Place, visit www.graceplaceretreats.org or call 314-842-3077.
Kim Plummer Krull is a freelance writer and member of St. Paul's Lutheran Church, Des Peres, Mo.
Posted Feb. 24, 2011