President Rev. Robert Erickson of the Lutheran Church of New Zealand (LCNZ) is asking fellow Lutherans to join in a day of prayer on Sunday, Feb. 27, for those affected by the 6.3-magnitude earthquake that struck on Tuesday, Feb. 22.
There were 76 confirmed deaths in Christchurch and surrounding areas, but Lutherans there seem to have escaped death and serious injuries, accord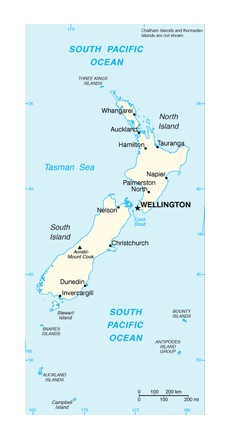 ing to LCNZ leaders. Damage to homes has been severe, however. News sources are calling the earthquake the most deadly disaster in New Zealand in 80 years.
As of Thursday, Feb. 24, there was still no water, electricity or sewage services, which may be out for another week, according to LCNZ sources.
Thousands stayed in shelters Tuesday night, including Erickson's son-in-law, a doctor from Australia who attended a medical conference in Christchurch and escaped from the building without injury. He and other Australian doctors spent the night in a tent city in a park without food or water, but were able to care for the injured.
"All congregations in our church and hopefully beyond, please set aside time next Sunday for prayer," wrote Erickson, who was at a conference in northern New Zealand with Christchurch Pastor Rev. David Lipsys during the earthquake. Lipsys said he is not aware of any injured Christchurch members, but stressed that communication has been difficult.
Lipsys, who is planning to return to Christchurch, has heard the church building is "a mess" but still standing, and he is asking members to gather outside the church on Sunday for worship.
His own home was damaged in a 7.1 earthquake in September, but Tuesday's earthquake caused more destruction and the house will now have to be bulldozed.
"The thoughts and prayers for us from around the world are very much appreciated," Lipsys said. "Thank you!"
Darin Storkson, regional director in Asia with LCMS World Relief and Human Care (WR-HC), has been in contact with Erickson. WR-HC staff continue to monitor the situation and are poised to offer prayerful and financial support if needed.
"We will join President Erickson and all members of the Lutheran Church of New Zealand, lifting up prayers in their behalf to our Father in heaven for His continued mercy," said Rev. John A Fale, interim executive director of WR-HC. "We will be in contact with President Erickson to determine how we can join the LCNZ in reaching out with the mercy of Christ to their neighbors in affected areas."
To make a donation for Lutheran relief efforts around the globe, please give to LCMS World Relief and Human Care's "General Disaster Relief Fund" by clicking here.
Posted Feb. 24, 2011