Nine Lutheran educators have been named as recipients of Lutheran Education Association's (LEA) 2011 awards.
They include Dr. Steven Arnold of St. Paul, Minn., a retired teacher an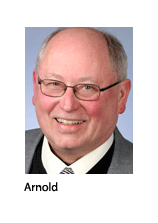 d director of Christian education (DCE) who is receiving the Christus Magister (Teacher of Christ) Award. That is the most prestigious honor given by LEA — an LCMS Recognized Service Organization with some 3,000 members that is based in River Forest, Ill.
Arnold is the 53rd LEA member to receive the Christus Magister Award since it was established in 1965 to honor Lutheran educators "who have made significant contributions to Lutheran Education," according to an LEA news release. LEA's Board of Directors and staff selected him for the honor.
A professor emeritus of Concordia University, St. Paul, Arnold was on the faculty and staff there from 1986 until his retirement last year. In those years at the university, he was director of its Christian education program, campus chaplain, dean of the College of Vocation and Ministry, and professor of education.
Before joining the Concordia faculty, he served Lutheran congregations in Phoenix; Redford, Mich.; and Detroit, where he also taught religion at Lutheran High School West.
At various times, Arnold was on the LCMS English District Board for Youth Ministry and Christian Education and the LCMS Board for Youth Services. He is a founding member of the Karpenko Institute for Nurturing and Developing Leadership Excellence, and has chaired the board for The Youth and Family Institute.
He earned a B.S. in secondary education, a Lutheran teacher diploma and director of Christian education certification from Concordia University Nebraska, in Seward. He also earned an M.A. from Eastern Michigan University, Ypsilanti, and a Ph.D. in curriculum and instruction from the University of Minnesota. He studied at the Christos Center for Spiritual Formation and continues work toward an M.A. in aging and health at Luther Seminary, St. Paul.
"One of my greatest joys in ministry is to see the legacy of leadership transferred to the next generations," Arnold said. "In the past, I have found my joy in youth and young adults ministry, but now I find great joy in supporting people in transition, especially in the third and fourth age of life."
He also said that he has "come to the conviction that, really, all of Christian education is to prepare people to die meaningfully as disciples of Jesus Christ. To be able to listen, hold hands, and minister to family and friends, pray and bless as someone is dying is absolutely powerful."
Supporting Arnold's nomination for the Christus Magister Award, one of his colleagues wrote, "Steve selflessly gives to others by sharing his God-given talents, abilities and knowledge with individuals of all ages. He is masterful in bringing together Lutheran theology and experiences with various thoughts and opinions to prepare individuals for diverse settings."
The other 2011 LEA awards and recipients are:
Distinguished Lutheran Elementary Administrators — Kenneth Boerger, principal at Bethany Lutheran School, Parma, Ohio, and Steven Wentzel, principal at St. Paul Lutheran School, Napoleon, Ohio.
Distinguished Lutheran Early Childhood Administrator — Rachel Bausch, an early childhood director at St. John Lutheran Preschool, Ellisville, Mo.
Distinguished Lutheran Early Childhood Teacher — Stacey Long, a kindergarten teacher at Immanuel Lutheran Christian Academy, Broken Arrow, Okla.
Distinguished Lutheran Elementary Teacher — Amy Moeller, a middle school teacher at Trinity Lutheran School, Roselle, Ill.
Outstanding New Lutheran Early Childhood Teacher — Jenna Hicks, a prekindergarten teacher at St. John Lutheran School, New Orleans.
Distinguished Lutheran Secondary Educator — William Leese, a religion teacher and spiritual life coordinator at Hong Kong International School, Tai Tam, Hong Kong.
Leader in Outreach — Carol Ebeling, a retired educator, counselor and volunteer at Faith Lutheran Church, Bloomington, Ind.
LEA members may submit nominations for the Christus Magister Award. Nominations for the seven other awards come from peers within each profession, with awardees selected by each peer group's Network Leadership Team, in consultation with the LEA staff.
All nine of those receiving the 2011 awards will be recognized at LEA's triennial national convocation March 24-26 in Cincinnati, along with others who have received LEA awards over the past three years.
Posted Feb. 9, 2011