Clayton Andrews, a member of Grace Lutheran Church in Norfolk, Neb., and co-founder of Orphan Grain Train, was inducted Feb. 3 into the Nebraska Business Hall of Fame for his ser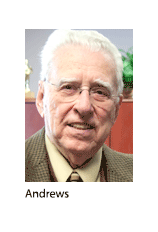 vice to the community and the longevity of his company, Andrews Van Lines.
Orphan Grain Train, an LCMS Recognized Service Organization, ships food, clothing, linens, quilts, medical and school supplies, and religious materials worldwide.
"It's a tremendous honor to receive this award," Andrews said. "I never thought anything like this would happen. It is one of the greatest highlights of my life."
The 90-year-old began hauling freight from the railroad depot in Norfolk to downtown businesses when he was just 14. When he returned from World War II, he eventually joined his father's small moving business, Andrews Transfer and Storage, and developed it into a van line that moves household goods across the country and worldwide.
In 1992, at the age of 71, he was approached by Rev. Ray Wilke, pastor of Grace, Norfolk, who asked if there was a way to get humanitarian aid to the countries of Latvia and Russia. Wilke had visited those countries on a church mission trip and had seen the desperate need of the people following the breakup of the Soviet Union.
He envisioned a train that would travel through America's Midwest, picking up cars of donated grain along the way, until it reached a port from which the grain would be shipped to feed starving people in Eastern Europe.
Aware of Andrews' expertise in the moving business, Wilke asked for his assistance. From that conversation, Orphan Grain Train (OGT) was established and the two became its co-founders. The original "grain train" concept proved impractical, but within a year OGT's first shipment of humanitarian aid arrived in Riga, Latvia.
Today, the organization has 19 regional divisions staffed by volunteers who each year collect, pack and ship some 110 40-foot containers with donated clothing, relief supplies and other aid to developing countries, plus 40 semi-trailer loads to U.S. locations. Its office and 60,000-square-foot warehouse in Norfolk have just seven paid employees.
During the past 18 years, OGT has shipped more than 63 million pounds of relief items to people in 43 countries and hard-hit disaster areas in the United States. This effort includes 6,000 frozen turkeys shipped to New York for distribution at Thanksgiving to needy families following the 9/11 disaster, 147 semi-load containers of relief items sent to the Gulf Coast after Hurricane Katrina, and shipments to 25 states affected by blizzards, tornadoes, droughts and wildfires.
In partnership with LCMS World Relief and Human Care, OGT has shipped 84 containers of relief items, including 250 pre-fabricated houses to Haiti since last year's devastating earthquake.
Andrews sees his work with the Grain Train as a "calling" — something he was meant to do. And he doesn't intend to stop volunteering there or managing his business any time soon.
"It's been very gratifying to donate my time to an organization that serves the needy people in Third World countries," he said.
For more information about Orphan Grain Train or to donate, visit its website at www.ogt.org.
Posted Feb. 16, 2011