Planners for the 12th triennial National LCMS Youth Gathering in 2013 have unveiled the Gathering logo (which they also refer to as an "identity mark") and announced that online application is open for key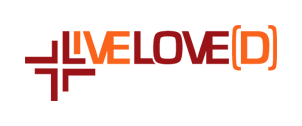 Gathering volunteer positions.
The Gathering logo features the theme for the Gathering, "Live Love(d)," and incorporates "a distinctive cross that will help tell the story of the theme," Gathering Program Director Rev. Mark Kiessling told Reporter. Kiessling is on the staff of the LCMS Office of National Mission — Youth Ministry, which sponsors the national gatherings.
Seth Boggs, a graphic designer and art instructor at Concordia University Nebraska, designed the 2013 logo.
Boggs joined Gathering planners for a meeting last summer, when they continued studying 1 John under the direction of the Rev. Dr. Joel Lehenbauer, executive director of the LCMS Commission on Theology and Church Relations and theological adviser for the National Youth Gathering. The 2013 Gathering theme is based on 1 John 4:9.
"Love in 1 John is anything but how our world defines it," Lehenbauer explained. "It's a matter of life and death. God loved us so much that He could not bear to see us die in our sin. He sent His own Son to suffer and die in our place, that we might live — and love — through Him. In 'Live Love(d),' the 'd' makes all the difference: 'We love because He (God) first loved us' (1 John 4:19)."
In December, LCMS Youth Ministry rolled out the new identity mark on the Gathering website, www.lcmsgathering.com. And in January, the first theological paper is due to be on the site, which is the primary location where Gathering resources are made available.
Also on the site is the online application and information for Gathering Community Life Builders (CLBs). This registration is open until Feb. 21, 2012.
"Community Life Builders fill vital volunteer roles at the Gathering," Kiessling said.
The 2013 National LCMS Youth Gathering is scheduled for July 1-5 in San Antonio. Gathering registration opens this coming fall.
For more information, contact LCMS Youth Ministry by calling 800-248-1930, ext. 1155, or by email at youth.ministry@lcms.org.
Posted Dec. 28, 2011