New posters and a banner designed to promote the Missouri Synod's new "Witness, Mercy, Life Together" emphasis are available from Concordia Publishing House.
The emphasis, according to an LCMS website (www.lcms.org/?17740), "illustrate[s] how the church lives and works together to proclaim the Gospel and to provide for our brothers and sisters in Christ in our congregations, communities and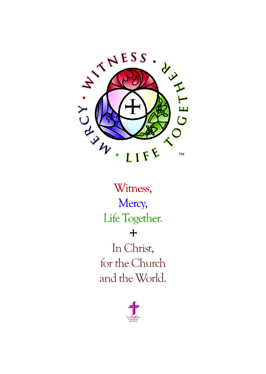 throughout the world. And in all we do, Christ is at the center, leading us, sustaining us, keeping us focused on our mission. This will never change."
Two versions of a 24-by-36-inch poster suitable for framing are available. The first version ($24.99, item no. 885534WEB) depicts the "Witness, Mercy, Life Together" logo with the words "In Christ, for the Church and the World."
The second version ($24.99, item no. 885535WEB) provides the Greek for each word in the emphasis, along with pertinent Bible verses. In addition, a smaller (18-by-24-inch) set of both posters ($13.99, item no. 885536WEB) is available.
The "Witness, Mercy, Life Together" banner ($124.99, item no. 900080WEB) is 3 by 7 feet and features the same design as the first version of the poster.
All items may be ordered by calling CPH at 800-325-3040 or visiting its website at www.cph.org/searchnew.aspx?SearchTerm=witness+life+mercy. Prices quoted do not include shipping charges.
Posted Feb. 9, 2011