The Rev. Dr. Lawrence R. Rast Jr. will be installed as the 16th president of Concordia Theological Seminary, Fort Wayne, Ind., during the Opening Service for the seminary's 166th academic year on Sunday, Sept. 11.
The service will take place at 4 p.m. in Kramer Chapel on campus and is open to the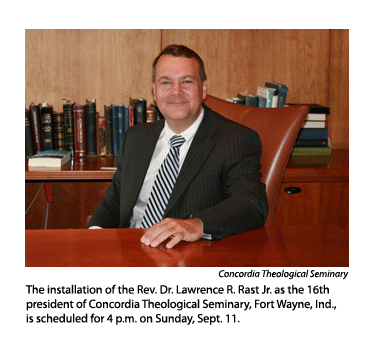 public. LCMS President Rev. Dr. Matthew C. Harrison will serve as preacher.

"Serving Christ's people in this new capacity is absolutely thrilling — and a little overwhelming," said Rast, who succeeds the Rev. Dr. Dean O. Wenthe in the post. "Stepping into the shoes of my gifted predecessors is humbling. But God is good and He provides! He has given us an outstanding Board of Regents, an exceptional faculty, a wonderful staff and, above all, gifted students who are dedicating their lives to teaching the faithful, reaching the lost and caring for all."
Rast joined the seminary's Historical Theology Department in 1996 after serving as pastor of Ascension Lutheran Church, Madison, Tenn., from 1992 to 1996.
In addition to his duties as president, Rast is professor of American Christianity and American Lutheranism. He serves as a member of the Board of Directors of the journal Lutheran Quarterly and of the editorial committees of the Concordia Historical Institute Quarterly and Concordia Theological Quarterly. He also is chairman of the LCMS Commission on Theology and Church Relations.

He and his wife, Amy, have three children: Lawrence III, Karl and Joanna.
Following is the Sept. 11 schedule of activities at the seminary:
11 a.m to 1 p.m. — Sunday Brunch in the Katherine Luther Dining Hall.
noon to 2 p.m. — tours of Library Expansion Project.
noon to 3 p.m. — campus bookstore open.
3 to 3:30 p.m. — Organ Recital, Kramer Chapel.
4 p.m. — Opening Service and Rast installation.
5:15 p.m. — reception, Upper Plaza.
For more information, contact CTS Community Services at 260-452-2204 or leeanna.rondot@ctsfw.edu.
Posted Aug. 17, 2011